VIDEO | Kohlsville FD says thanks to Gerald Rosenthal and Todd Steger for their service
Jan. 5, 2018 – Kohlsville, WI – Members of the Kohlsville Fire Department gathered Thursday night for their monthly meeting and wrapped it up by paying tribute to two longstanding members.
Gerald 'Jerry' Rosenthal, 81, is stepping down as Treasurer of the Fire Department after 42 years. "I started Jan. 1, 1976," said Rosenthal.
He's only the third treasurer for the Kohlsville FD since its inception in 1908.
Wilmer Herman was fire chief when Rosenthal first joined the department. "When I first joined we were in a little old firehouse down by the pond and it was built just before I became treasurer up here," he said.
In his 42 year career, it wasn't a fire that was most memorable but the Great Ice Storm in March 1976. "We were all here up at the firehouse, which was fairly new at that time," he said. "We helped all the people pumpin' water with the generators and getting people's refrigerators and freezers that didn't thaw; people slept up here."
For Rosenthal the volunteers at the Fire Department have been family. "This is a wonderful group of people to work with," he said. "Everybody gets along pretty well and we've really got a department to be proud of with the equipment we have and we still have money in the treasury too."
Fire Department President Bill Rate said, "It's been an honor working with Jerry all these years. It's proud for a small community for someone who stayed and tried to help out for that many years."
Chief Curt Martin presented Rosenthal with a gold-plated ax and a plaque that read: On behalf of the Kohlsville Fire Department we'd like to give you this plaque in recognition of your 42 years of tireless and honorable dedication as treasurer of the Kohlsville Fire Department and the citizens we serve from 1-1-1976 to 1-1-2018.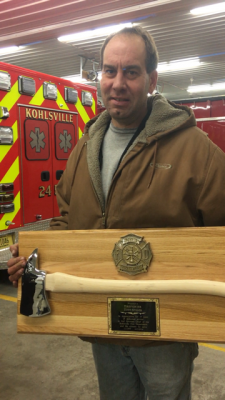 Firefighter Todd Steger was also recognized for his 20 years of service. His plaque read: In appreciation for 20 years of dedicated service as 2nd Assistant Chief of the Kohlsville Fire Department and the citizens we serve 1/1/1997 – 12/3/2017.
On a side note: The Kohlsville Kruisers Snowmobile Club will be holding its annual Brat Fry & Fisheree this Sunday, Jan. 7 at Jug's Hitching Post on Highway D in Kohlsville. The fisheree starts at the Kohlsville Pond at 7 a.m. There's expected to be a heatwave this weekend with temps in the 30s.