VIDEO | MPTC students make bike racks and donate to Kettle Moraine YMCA
May 16, 2018 – West Bend, WI – The Kettle Moraine YMCA in West Bend is the proud owner of a new bicycle rack made by students at Moraine Park Technical College.  There will be five MPTC designed-and-fabricated bike racks installed at the YMCA and about a dozen similar bicycle racks going up around the community.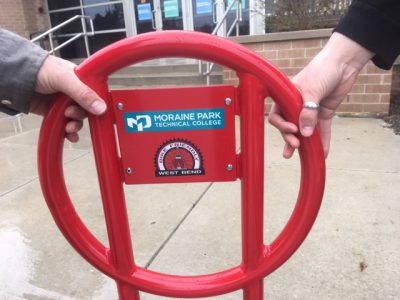 Bike Friendly West Bend help initiate the project with MPTC.
Remember the Ride of Silence is tonight, Wednesday, May 16. Bicyclists will gather on Veterans Avenue in the parking lot of Museum of Wisconsin Art at 6:30 p.m. for registration and announcements. Helmets are required and lights are recommended. The 6-mile ride takes off at 7 p.m.