West Bend, WI –  Spaulding Clinical in West Bend is looking for men and women to participate in its migraine study.
Spaulding Clinical is currently looking for male and female volunteers who have been diagnosed with migraine headaches, between the ages of 18 and 50, to participate in a research study consisting of 2 periods of in-house stay, 1 lasting 3 days, 1 lasting 10 days with 1 follow up visit at our state-of-the-art facility, 525 S. Silverbrook Drive, in West Bend, Wisconsin.
Those who qualify and complete the study may be eligible to receive payment of up to $5,953, while enjoying ample recreation amenities and comfortable volunteer suites.
Click HERE for more information.
 Call 800-597-4507 today to volunteer.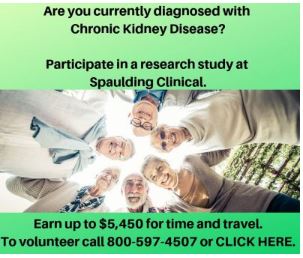 Spaulding Clinical is also conducting a study on chronic kidney disease. Click HERE to learn more.