September 22, 2019 – Barton, WI – It was the culmination of a lot of hard work as Jeff Slais and his team in Barton finally raised the flag and dedicated the new Firefighters Memorial Bluff. The park on N. Main Street honors Barton and West Bend's bravest – the firefighters in the community.

On Saturday afternoon, Sept. 21, members of the West Bend Fire Department and Police Department were joined by community leaders, neighbors and former volunteer firefighters to celebrate the dedication. The flag pole, which dates to 1960, was harvested from the former Barton School.
Following a brief introduction by Dist. 7 alderman Justice Madl a poem was read by Elaine (Vass) Shutes. She remembered her father, who years ago, served as a volunteer firefighter.
The Barton siren is heard across town, in our home whenever we heard that sound,
Mom always held open dad's jacket, we kids held the door. I still hear the racket.
Daddy is leaving now into the night, he is on his way, a fire to fight.
The door is closed against the bitter cold, no mention of the danger is ever told.
And even though I am very young, I sense that the long wait has just begun.
The temperature is down way below zero, bring them all home, Lord, we don't need a hero.
The volunteer firemen are on their way, they did it all with no thought of pay.
The fire trucks are making another trip. Each man, a silent prayer on his lip.
"If tonight fate calls for me to die, Lord, help my children to understand why."
Today we dedicate Firefighter's Bluff to all the men who had the right stuff.
Just like my dad, at every fire call. We honor them and two who gave their all.
Guest speakers at the event included West Bend Mayor Kraig Sadownikow, West Bend Fire Chief Gerald Kudek, West Bend Battalion Chief and WBFD historian John Spartz, HBBA memorial leader Jeff Slais.
Mayor Sadownikow: "This memorial can help us look back at the people and circumstances and situations that helped influence who we are today. It helps us look back at these two gentlemen and the firefighters who served this community who helped lay the groundwork for the department we have today."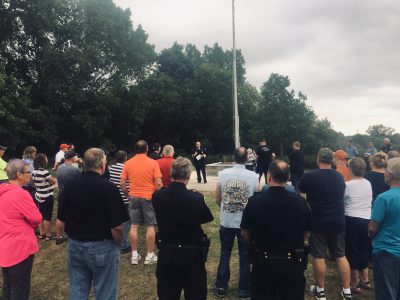 Fire Chief Gerald Kudek: "Jeff Slais and the HBBA did a great spearheading job to get this done so a hat tip to the Historic Barton Business Association. Park and Rec and the Commission did a wonderful job to help move this forward. This is just phenomenal. I also want to thank those currently serving and those who have served in the past. We owe you a great debt of gratitude."
West Bend Battalion Chief and WBFD historian John Spartz: "When the alarm sounds, many family members are left behind. This bluff is a tribute to them as well."