VIDEO | Resolutions honoring Ald. Adam Williquette and Ald. Mike Chevalier
April 17, 2018 – West Bend, WI – The West Bend Common Council tipped its hat to a pair of longstanding aldermen on Monday night as they participated in their final meetings.
Mayor Kraig Sadownikow read resolutions honoring Dist. 3 alderman Mike Chevalier and Dist. 7 alderman Adam Williquette.
Sadownikow recognized Chevalier for "devoting a substantial portion of his time for the betterment and enrichment of" West Bend.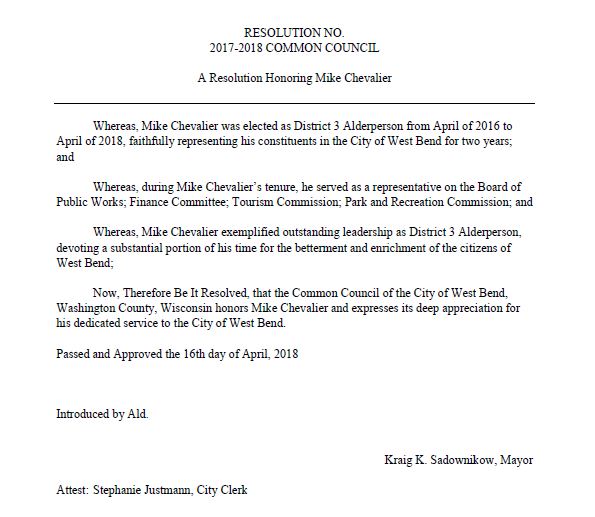 Alderman Williquette was recognized for representing his constituents in the City of West Bend and Barton for six years.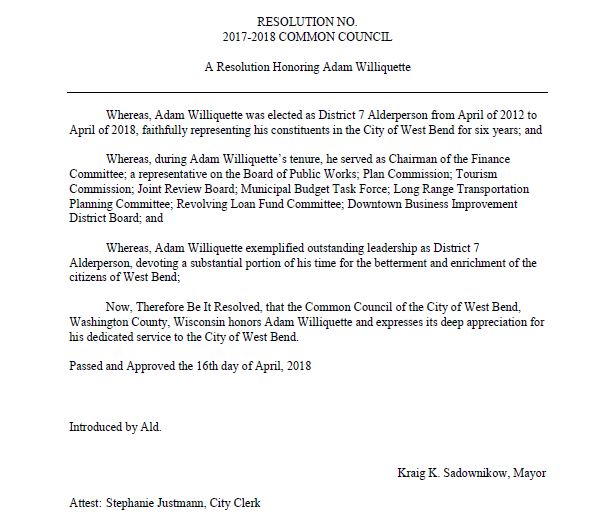 "Both of these two guys really exemplify the old phrase that says if you have the ability to make a positive impact then you have the responsibility to make a positive impact," said Sadownikow.
Newly-elected alderman Andrew Chevalier and Justice Madl will be sworn into office on Tuesday, April 17.