Oct. 12, 2018 – West Bend, WI – The opening of Culaccino Bar + Italian Kitchen, 110 Wisconsin Street, is so close…. you can almost taste it.
The sign went up today just in time for a soft, soft opening this weekend. It's an invite-only sort of event, which will run the next couple of days as the staff gets its footing.
Click HERE to read more about Culaccino.  Pronounced cool-lah-chino, the modern Italian restaurant is the homegrown concept of Bibinger's owner Travis Dowden. Designed to deliver Italian-inspired, honest cooking, with an emphasis on using the highest quality ingredients, locally-sourced whenever possible.
Click HERE for a final walkthrough of when Dublin's, the previous tenant of the building, closed.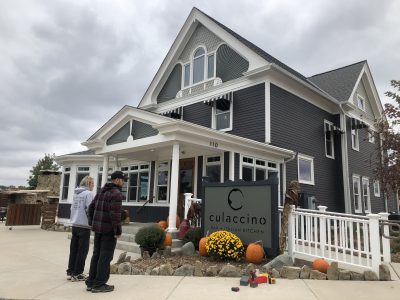 The new sign for Culaccino was produced by Odd Job Shop in West Bend.