VIDEO | Thanks to Leah Baughman from Interfaith Caregivers of Washington County
March 3, 2019 – Washington Co., WI – There was a full house at Percolate at Interfaith Caregivers of Washington County this week and for good reason as volunteers, staff and friends said goodbye to Leah Baughman.
Baughman has been an integral part of Interfaith Caregivers the past two years.
"She has been an awesome part of our organization and we've had the priviledge of having her be part of our team," said Interfaith executive director Janean Brudvig.
"I've loved it here," said Baughman. "This is a wonderful organization, I can't say enough about it. The greatest thing is getting to know all our volunteers and clients; this was not an easy decision to make but I will be back down here to give you all a hard time. Keep doing what you're doing, you're really making a difference in the lives of seniors."
Baughman and her family will be moving back home to Eagle River.
Helping Hands Fish Fry for Interfaith Caregivers is March 8 and half the proceeds come back to Interfaith.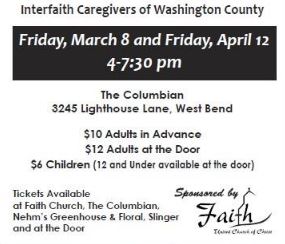 Enjoy a fish fry to help support some fantastic non profit organizations in our community.
Friday, March 8 and April 12 from 4 p.m. – 7:30 p.m. at The Columbian, 3245 Lighthouse Lane, West Bend.
Six charities, who lend a helping hand to individuals across the county, will benefit from this event, sponsored by Faith United Church of Christ, Slinger.
Those coming to enjoy the meal, prepared by Catering by Bryan, may designate the charity which should receive the proceeds from their ticket.
The menu includes baked or fried fish, coleslaw, potatoes, rye bread and a beverage. A children's menu includes chicken strips or fish with sides. Scrumptious homemade desserts will also be available. Tickets may be purchased through any of the benefiting charities; The Columbian; Faith United Church of Christ, and Nehm's Floral Greenhouse in Slinger, or at the door of the event.
$10 adults in advance
$12 adults at the door
$6 children (12 and under available at the door)
Buy your tickets from Interfaith Caregivers and half the money is returned to Interfaith.