Mar. 3, 2019 – Fond du Lac, WI – John E. Muentner Sr., 85, died peacefully February 27, 2019; he is now at home with his Heavenly Father.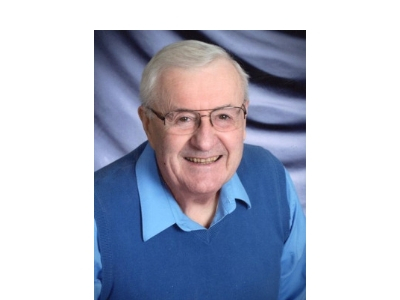 A Godly man, he was a beloved husband, father, grandfather and great grandfather.
He was born in Fond du Lac, WI on October 28, 1933, the son of the late Irving L. and Verna Johnson Muentner.  John married the love of his life, Elaine A. Jesse on June 11, 1955 at Emmanuel Church in the Town of Lomira; they farmed together for 45 years on the Muentner family farm, 20 years with their sons.  The farm earned Century Farm status during that time.
John served three years in the Wisconsin National Guard, and two years in the US Army during the Korean War; he was a member of the Lomira Legion #347, serving 50 years as commander of the Firing Squad.  He was a longtime and faithful member of Ebenezer/Trinity United Methodist Church where he served in many positions including Lay Leader, taught Sunday School and sang loud and proud in the Choir.  John was a member of the Brownsville Fire Company and a charter member of the Rescue Squad, served on the Board of Directors for Lomira Valley Bank, Fond du Lac County FHA, LAEEFoundation, and various other Ag-related Boards.  He proudly served his community as a Byron Town Board Supervisor (24 yrs.) and Chair of the Planning Commission (15 yrs.), as well as a Fond du Lac County Board Supervisor (12 yrs.).  After retiring, he especially enjoyed cheering for the Packers, Badgers and Brewers, as well as the activities of his grandchildren.  John will be fondly remembered as a mentor and role model by many in his family, church and community.
Those John leaves behind to cherish his memory include four children, Dawn (Dave) Seibel of Campbellsport, John Muentner Jr. of Brownsville, Faye (Wayde) Beck of Theresa, and Dan (Lori) Muentner of Fond du Lac; grandchildren, Andy (Jackie) Seibel, Katie Seibel, Melissa (Corey) Sanders, Jennifer (Allen) Kiernan, Amanda (Nathan) Bodden, Bradley (Megan) Beck, Ellen (Cody) Leland, Kasey (Nicholas) Wustrack and Luke Muentner; 9 great-grandchildren; a sister, Marjory Scharf; two sisters-in-law, Diane Watkins and Carolyn Muentner; special nephews, Gary Jesse, Steven and Paul Scharf.  He is further survived by other relatives and friends.
In addition to his wife of 62 and a half years, Elaine, and his parents, he was preceded in death by his brothers, Irving P. and Walter Muentner; two brothers-in-law, Elmer Jesse and John Scharf.
A funeral service in remembrance of John will be held on Saturday, March 9, 2019 at 3:00 p.m. at Trinity United Methodist Church, 300 Church Street, in Lomira. John's family will greet relatives and friends at the church from 12:00 p.m. until the time of the service. A private burial will take place at Ebenezer Cemetery.
In lieu of flowers, memorials are appreciated to Trinity United Methodist Church in Lomira.
The family would like to thank everyone at Hope Assisted Living and Hospice Hope for the wonderful and gentle care provided to John.