VIDEO | Update on West Bend crossing guard Phyllis Wendt
Sept. 7, 2017 – West Bend, WI – Stopped in to visit Phyllis Wendt, 92, today to see how she was doing following the two-vehicle accident on her corner Wednesday morning.
Phyllis dove out of the way after two vehicles collided and veered over the curb and onto the grass.
West Bend Police "determined a 35-year-old male driver was southbound on S. Seventh Avenue and stopped for the stop sign at W. Decorah Road.
The male proceeded from his stop and struck a vehicle eastbound on W. Decorah Road. The vehicle that was struck was driven by a 36-year-old female from West Bend. There were no injuries to the drivers or occupants of the vehicles that collided.
The investigating officer issued the 35-year-old male a citation for Failure to Yield Right of Way.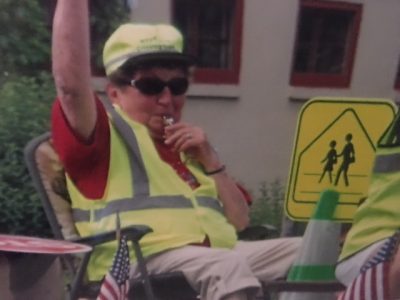 Phyllis went to the doctor with a back injury. He told her to take it easy. She's putting cold compresses on her back.
We spent about 30 minutes reading everybody's nice notes and well wishes. Phyllis laughed at the note from the woman who said she was the best babysitter and now her son is 39 years old.
Phyllis said the intersection of Seventh and Decorah is pretty dicey and she reminded motorists to slow down.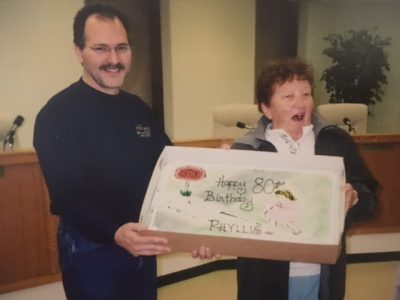 Then Phyllis went and got a big tri-fold poster that documented her years as a crossing guard. One photo showed a police officer presenting Phyllis with a cake celebrating her 80th birthday.
Phyllis wants to tell everybody "thank you" for the prayers and well wishes.