VIDEO | West Bend School District Candidate Forum hosted by Common Sense Citizens of Washington Co.
Jan. 25, 2018 – West Bend, WI – Common Sense Citizens of Washington County hosted a candidate forum Thursday night for three of the four candidates running for two open seats on the West Bend School Board.
In attendance were Monte Schmiege, Chris Zwygart and Mary Weigand.
Candidate Kurt Rebholz was not in attendance due to a prior commitment and candidate Carl Lundin has taken himself out of the race, although his name will still appear on the Feb. 20 primary ballot.
During the primary voters will select four candidates and the top four vote getters will advance to the April 3 Spring Election.
Below are bullet points from the candidate introductions followed by video of the first question regarding role of school board.
Monte Schmiege – elected in 2015, served three years and in last three years saw six new members join the board. Treasurer of school board. Working to be actively engaged.  Review 100 series of policies on board operations. Adopt 200 series on administration. Superintendent evaluations important. Concerned about maintaining financial direction. Lots of turmoil and in spite education goes on.
Chris Zwygart – grew up in Iron Ridge, parochial grade school and Horicon H.S. and graduated Marquette Univ and law school grad in 1995. Attorney at West Bend Mutual, board secretary and knows how top-notch board works. Chair of St. Joseph's Hospital Board. Running because I want to help.  I know how a board should behave. We have key leadership vacancies in the district and I have experience filling top-level leadership roles. I will use my experience to find ways to review expenditure and minimize cost and maximize value.
Mary Weigand – lived in WB since 4th grade and grad of WB East. Have been attending board meetings. In 2005 the US Naval Academy went from celestial navigation to GPS. They had figuratively speaking, lost their way and needed to get back to the basics. I feel we've lost our course in WB. We have lost the ground work. Mr. Uelmen said they don't know how to use a tape measure. But kids took a white privilege survey. Bring common sense community values. I'm concerned about curriculum and common core in West Bend schools.
Proper role of board in working with superintendent, administration and teachers.
MW – Admin runs day to day of district. Board writes policies, oversees curriculum and standards. Board needs to see where superintendent stands on Act 10 and Common Core. The teachers are in the classroom and board must support professional staff. Teachers are paid in the top 5% in the state. Superintendent has to understand our community.
MS – Proper role of board with regard to super is – work on policies with board and superintendent; relationship and how they work together. Superintendent deals with day to day of district. Board participates in strategy and setting goals. Board also has to evaluate superintendent based on goals and strategies worked out between board and super. Board does not employ teachers and admin. Board can't do all of that work that would be too many different opinions.
CZ – Board acts as a whole. When we have board members out on their own that's a problem. Board has to help with leadership vision and holding the district and superintendent accountable. The execution is left up to administration. Board is part time and the idea of micromanaging is not a good idea because it can breach trust. Proper role is a lot of listening.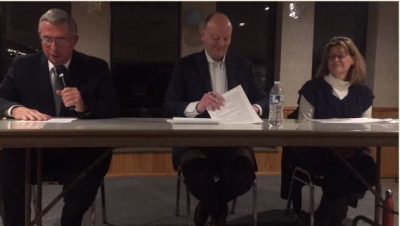 More from the candidate forum will be posted on Friday.
During the primary, Tuesday, Feb. 20 voters will select four candidates and the top four vote getters will advance to the April 3 Spring Election.