VIDEO | Work underway for new basketball/pickleball/volleyball courts at Regner Park
Oct. 18, 2018 – Washington Co., WI – Work is underway at Regner Park for the new Milwaukee Bucks Court Project.
The basketball court, volleyball and pickleball court are being built in the current area of Softball Field A which is located to the north of  Carl Kuss Memorial Field, to the east of the parking lot and to the south of the Urban Fishing Pond.
The Milwaukee Bucks and West Bend Mutual Insurance joined together to donate $150,000 for the sports complex.
This week the field was leveled, the backstop fencing removed and the new court framed out.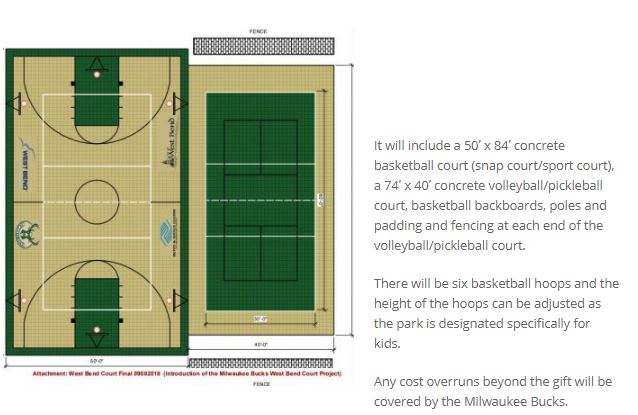 According to Park & Rec Dept. head Craig Hoeppner the concrete will be poured next week followed by installation of a sportcourt. The project should be completed by mid-November.
Hoeppner said the Parks Department will upgrade the softball diamond at Barton Park to help pickup some of the games that would need to be relocated with the elimination of the field.
On a seperate project there's no word yet when construction is set to get underway for the remodel of Carl Kuss Memorial Field. The field design is below. The grandstand will be remodeled and the layout of the field will be moved to the north. The scoreboard will remain in place.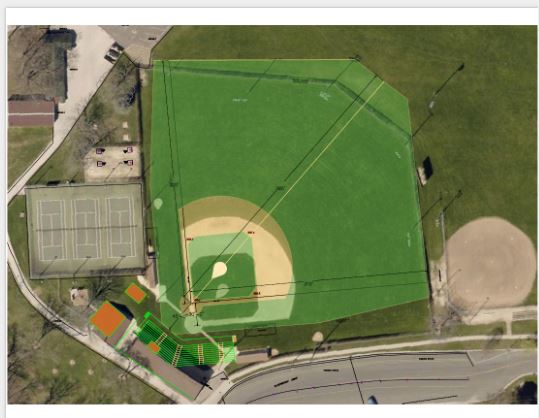 "We're still actively working with the West Bend Baseball Association and the Cal Ripken Sr. Foundation on the budget," said City Administrator Jay Shambeau. "Based on the groundbreaking on August 7 I can understand people are looking for this project to move forward."
The synthetic turf baseball field is expected to be finished before the start of the 2019 WIAA spring baseball season which gets underway in April.