May 8, 2019 – Hartford, WI – Vietnam War veteran Dale Mueller, 71, of Hartford, is heading to Washington D.C. on the May 11 Stars and Stripes Honor Flight.
Mueller was born in 1948 in Arlington, Minnesota to farmers Harry and Luella. Mueller graduated from Arlington-Green Isle High School in 1966 and got accepted into St. Cloud State University in St. Cloud Minnesota, "I was in St. Cloud for one year, I was looking to become a teacher. I was short on money and was going to skip a year, but the military came around so I enlisted. I picked the Army because I didn't want to go for four years and the Army was the only branch at the time that offered a 3-year enlistment," Mueller said.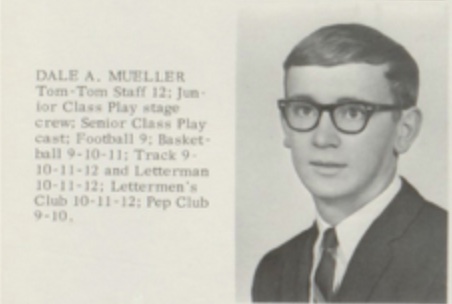 Mueller completed Basic Training in Fort Campbell, Kentucky in 1968. "Being from a small town, it was quite an experience, hard, eye-opening, and scary too," he said. " I got to meet people from all over the country. After that, I went to schooling for transportation for six weeks and then I got my orders for Vietnam."
Mueller shipped out in the spring of 1969, assigned to Cam Ranh Bay. "I was very lucky," Mueller said. "My job was to process all the troops coming in and leaving. I'd work with the Air Force in scheduling flights and getting assignments for people. Two weeks after my arrival, we took on incoming rockets, I was so scared I ran out of the barracks. I ran through the barracks screen door, tore the door off its hinges, trying to get the bunker. Everybody was laughing at that. I was so scared, the first couple times, I slept in a flight jacket and helmet.
Mueller shared that while serving was a serious matter, his unit tried to keep things fun and lighthearted at times, often pulling practical jokes on others. "After people landed, we'd put them on buses to be shipped out. We'd tell them that if you hear a loud boom or rocket, the bus would stop and they'd have to get out and lay in the ditch. So the bus driver would start driving up the hill and when he'd drive down, he'd make the bus backfire. He'd slam on the brakes and everyone would hop out and lay in the sand and I would say, 'Welcome to South Vietnam.'"
Mueller's service ended in the summer of 1971. "I got home and had a good, cold Midwest beer and spent time with my family, went fishing, just getting used to life in the States," he said.
He met his wife, Sue, in 1972 and married her in 1973, Mueller recalled when they first met. "She was teaching and coaching basketball. I was a basketball official and things sort of took off from there."
For a few years after his service, Mueller worked in construction before moving to Hartford because his wife got a teaching job at Peace Lutheran. "Then I worked in retail sales and helped start an organization called Builders For Christ," Mueller said. "I did that until I retired in 2014."
Mueller and his wife have two daughters that they are extremely proud of, Sarah, who works at Walmart, and Emily, who is an athletic trainer at Kewaskum High School. While he doesn't have any grandchildren, Mueller has a wonderful grand-dog named Nico. In his spare time, Mueller enjoys hunting, reading, and old classic cars. This summer, he and his wife plan on just enjoying life and taking care of their grand-dog Nico.
Mueller signed himself up for the Honor Flight, without any inclination he'd be chosen. Aside from meeting other people and reminiscing, he's looking forward to honoring the 58,000 servicemen and women that didn't come home.
Click HERE to read more about veterans from Washington County on the Stars & Stripes Honor Flight.
Photo Credit: Arlington-Green Isle High School Yearbook, 1966