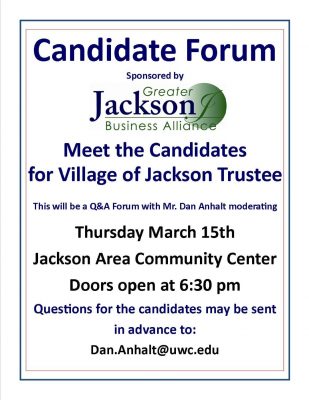 March 13, 2018 – Jackson, WI – There's a candidate forum this week at the Jackson Area Community Center. Four people are vying for three seats for Village of Jackson Trustee.
Candidates include Keith Berben, John Kruepke, Debra Kurtz and Gary Malcolm.
The forum, Thursday, March 15, is being presented by the Greater Jackson Business Alliance.
Doors open at 6:30 p.m. and the a Q & A will begin at 7 p.m.
The event is free and open to the public.
Questions may be submitted ahead of time to moderator Dan Anhalt at [email protected]
Election Day is Tuesday, April 3.