Washington County, WI – My name is Vinny Egle and I am running for the 59th District of State Assembly as a Constitutional Republican.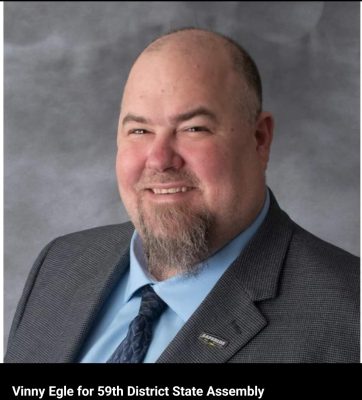 I was born and raised in Port Washington. After finishing high school in 1996, I worked as a machinist/welder fabricator for 16 years. I have been married to my wife Cassandra "KC" Egle for almost twenty years. KC and I have three children who participate in the school choice program and attend a public school. I am a proud small business owner in the Kewaskum area for nine-plus years.
I started a charitable event in 1997, and have since raised over $200,000 in the past 24 years for additional education for teachers to help reach students that are in the grey area, and continue to run it today with the help of others.
One of my greatest childhood memories was on July 27, 1987, at the age of nine, going to Lower Lake Park in Port Washington and seeing President Ronald Reagan and Wisconsin Governor Tommy Thompson.
Some topics I am passionate about: government overreach, unemployment fraud, and eliminating (small business) personal property tax.
But in the long run, I am just a normal guy excited to bring my small business experience to Madison.
Clubs and Positions held:
ABATE of Wisconsin – Lifetime member
West Bend/Barton Gun Club member and have been an avid trap shooter since I was 12.
Tavern League of Wisconsin
— State – District Director (2017-Current)
— Washington County – County Director (2015-2021)
— Fond du Lac County – President (2021-Current)