Warrior Hikers rescue an injured Cooper's Hawk at Ridge Run Park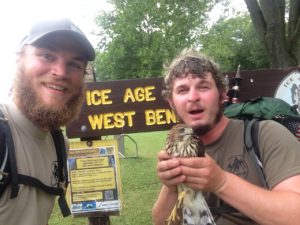 Some excitement on the Ice Age Trail in Washington County for Warrior Hikers Miles Vining and Michael Marziaka as they rescued a Cooper's Hawk on Thursday afternoon while walking a segment at 4 p.m. at Ridge Run Park.
"It was trying to fly but it couldn't," said Maziarka. "And then Miles caught it with his hands – he picked it up like a chicken."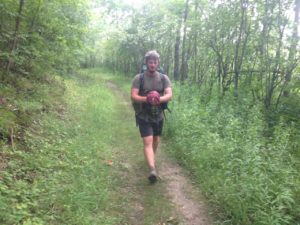 The pair said they stopped to take a picture of the bird and when it tried to fly it just tumbled to the ground.
While Vining cradled the bird Maziarka worked his phone and called the Washington County Sheriff, who guided them to the Humane Society and that led them to Marty Thompson with Wanakia Wildlife Rehabilitation and Education Center in Richfield.
"We pulled our buddy 2-miles out of Ridge Run Park," said Maziarka. "We met Thompson at Culvers."
The pair were told to cover the eyes of the hawk so they put a hat over its head.

"He was about the size of a loaf of bread and he was pretty wiggly but he calmed down with the hat," Maziarka said.
The pair agreed, it's one of the coolest things that have happened to them so far on the trip.