Warrior Hikers Spend Fourth With Family
As he through-hikes the Ice Age Trail, Michael Maziarka, West Bend native and son of Jim and Ginny Maziarka of Baraboo, was joined by family members this Fourth of July weekend who spent some time trekking with Maziarka and hiking buddy Miles Vining of Indiana. Both Maziarka and Vining are Afghanistan War veterans; Maziarka having served in the US Army and Vining in the Marines.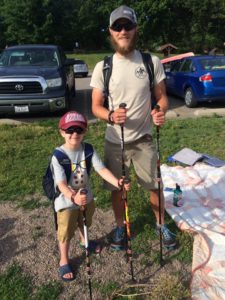 The entire Maziarka family gathered for swimming and and a cookout at Devil's Lake on Sunday as the hikers made their way to them on the Ice Age Trail. Maziarka's nephew, Bowen LeMay of West Bend, proudly donned the Warrior Hike uniform complete with hiking poles that were a little bit tall for him and needed to be adjusted to 5-year-old height (see photo). The men were well fed and hydrated as they enjoyed the support of family members and a cool dip in the lake.
The hikers have surpassed the 600-mile mark with another 500+ to go. They are currently heading through the Madison, Wisconsin area on the trail.
Maziarka said most of the people he and Vining have come across while journeying the trail are unaware that the Ice Age Trail is over 1,000 miles long.  He said they "wonder where the trail could possibly go" throughout Wisconsin. He and Vining spend time educating about the trail and what a "through hike" means; essentially, hiking a long-distance trail from beginning to end. The men will finish the trek on August 6 in Sturgeon Bay after passing through Fort Atkinson, West Bend in late July, and Two Rivers.
The Washington County Insider will keep you updated as The Warrior Hike progresses.
The Warrior Hike is a program designed to help combat veterans transition from their military service.
You can learn more about Warrior Hike HERE and follow these vets on the Ice Age Trail trek on the Warrior Hike Facebook page HERE.