Washington Co., WI – Two of the three headliners set to perform at the 162nd annual Washington County Fair are being announced.
Kicking off Thursday, July 22 will be two time platinum award winner LANCO. The 5-member country band from Nashville has scored a number of chart-topping hits including "Greatest Love Story" and "Born to Love You."
LANCO's debut album, Hallelujah Nights, hit No. 1 on the Billboard Country album charts. Labeled American County Music's "New Group of the Year," lead singer Brandon Lancaster is the first member of a group to ever win Nashville Songwriters Association International's "Songwriter/Artist of the Year."
Tickets on sale now. Click HERE for details and order yours today.
New singles on country radio include nostalgic tracks "Old Camaro" and "What I See."
Performing Saturday, July 24 at the Washington County Fair is country rock singer and songwriter Brantley Gilbert.
He is one of only four country artists with back-to-back platinum certified albums and hit songs such as The Weekend, Bottoms Up, and Country Must Be Country Wide.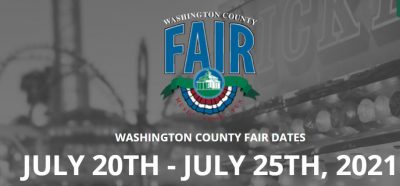 The 162nd Annual Washington County Fair kicks off Tuesday, July 20 and runs through Sunday, July 25. Friday night's headliner will be announced soon.
Click HERE for a full schedule of events.
County Fair includes lawn seating at no additional cost.
VIP Reserve tickets includes General Admission to the Fair; ticket prices range from $25 to $35.
Join the Washington County Agricultural & Industrial Society (AIS) – a non-profit member organization that oversees the daily operations of Fair Park. Included in all memberships is first-hand knowledge and pre-sale ticket opportunities to events at Fair Park and the Washington County Fair.
Click HERE for more information.