Washington Co., WI – On Wednesday, May 12, 2021 during a Washington County Board meeting of Supervisors at 6 p.m. a vote will be taken on a resolution regarding a multi-level road project which includes a proposal to extend County Highway W between STH 175 and STH 83.
The $2.6 million proposal would affect the makeup of two family farms including the Dave and Anne Wenninger farm on STH 175. The Wenninger farm is a century farm that has been in the family for seven generations.
Assembly Rep. Timothy Ramthun saw the story about the Wenningers trying to save their farm from having CTH W extension run through the property and he wrote a letter Friday, May 7, 2021 and mailed it to every supervisor on the Washington County Board.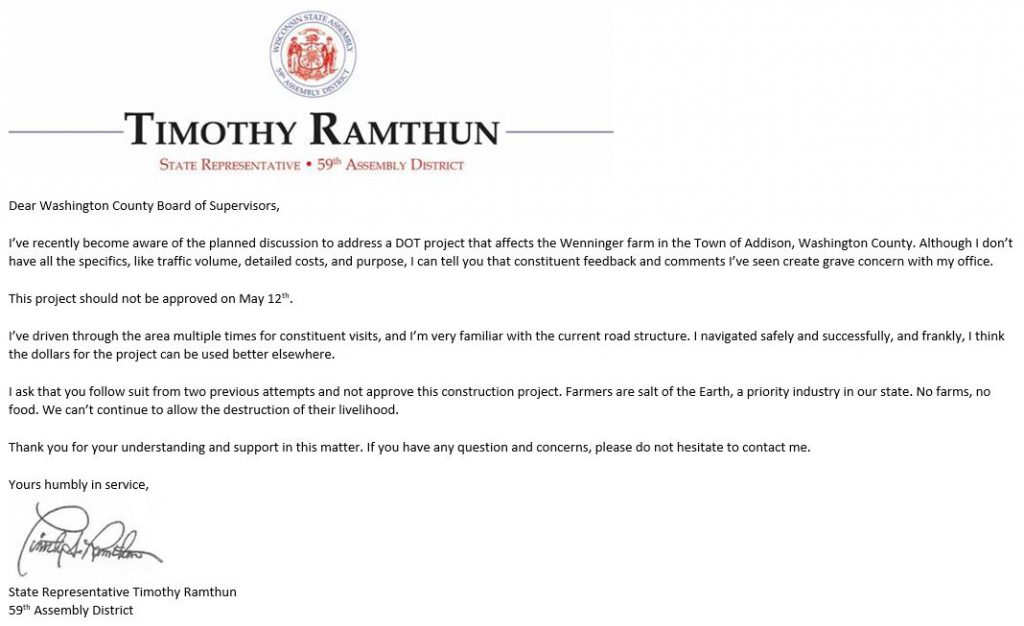 The Wenningers say they are "not against progress."
"We sold a parcel of property to the County several years ago," said Anne. "At the time they said they would never ask for more…. and now, they're asking for more to build a road through our family farm for an extension of CTH W."
Anne Wenninger said the latest proposal is tied in with another project to address safety improvements at Highway 175, Hwy S, and Hwy 83. "Since Hwy S will be included, improve it and improve the line of sight and then evaluate that over a year and then come back and look at the Hwy W extension," she said.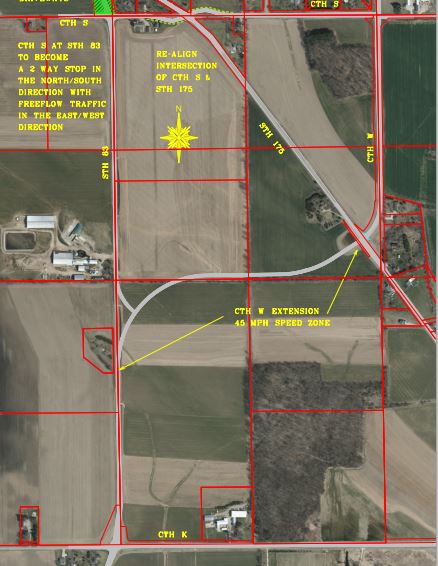 If the the Highway W extension is approved, Wenninger said that will cut up their farmland on their century farm and they will not be able to farm that section anymore.
On April 22, 2021 during his 2021 State of the County speech county executive Josh Schoemann spoke at length about the importance of agriculture and farming to the community.
"As part of my campaign for County Executive, one of my themes was "Thriving Rural
Communities." During that time, I became keenly aware of the struggles of our farmers as they endured the economic shifts and transitions of a global society."
This is the third time since 2019 the County has broached the subject to try and cut a road through a seventh generation century farm. In 2019 the county supervisors voted down the proposal. On Wednesday, the county board will try again.
Wednesday's 6 p.m. meeting is open to the public in Room 1019.
Click
HERE
to contact county supervisors that will be voting on the proposal.