May 12, 2021 – Washington Co., WI – This Wednesday, May 12, 2021 is a Washington County Board meeting during which they will discuss and vote on a resolution to extend County Highway W between State Highway 175 and State Highway 83.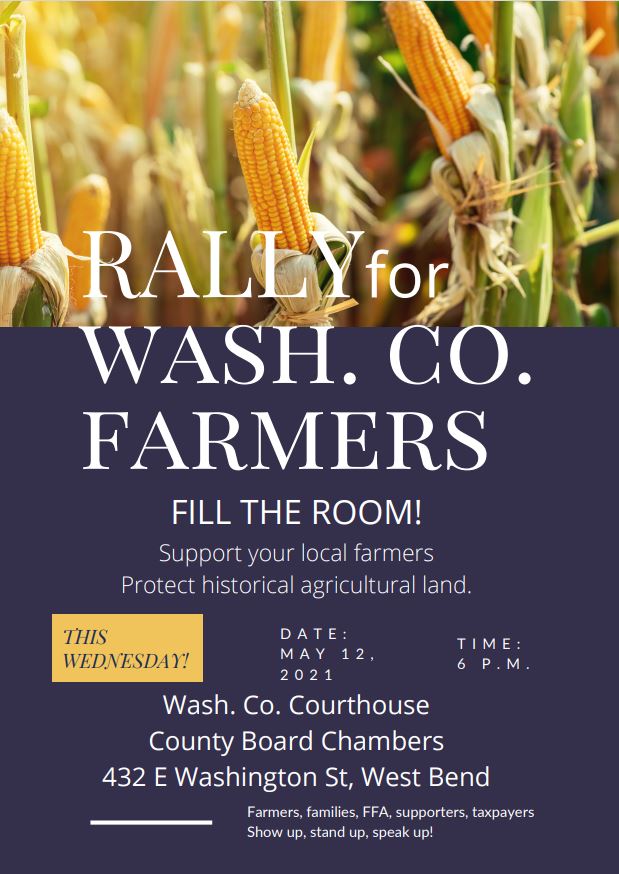 That proposed extension will cut through the David and Anne Wenninger property. It is a seventh generation century farm.
If you are a farmer, ag supporter, FFA, 4H, taxpayer, please stop in at 6 p.m. and fill the room in support of saving this agricultural property. ANYONE can attend. Bring your FAMILY. Bring signs in support of saving the farmland. Respectfully show you care about your local Washington County farmers!
CLICK HERE to learn more.
PLEASE FORWARD this information with everyone in your sphere of influence! Invite, invite, invite.
There is NO PUBLIC SPEAKING at the meeting. If you'd like to quietly hold a sign stating your position, please feel free to carry it in and hold it facing the county board. Kids are welcome to participate as well. Print off a sign on a standard size sheet of paper, back with cardboard and possibly attach to a painter's stick to hold (suggestion only).