Washington County update by Joshua Schoemann
WCEA Meeting – On Tuesday, I attended the Wisconsin County Executives & Administrators meeting.  These meetings are always an excellent opportunity to share ideas and learn about what's next for counties.
This particular meeting began our focus on what the 2017 budgets will be looking like, the effects of the UWEX repositioning and previews of the 2017-2019 State Budget.  Suffice it to say, each and every county seems to be in a similar position to our own, financially.
As such, I received several questions about Priority Based Budgeting, and how other counties might be able to use the program to position themselves to be able to control their own futures.

2017 Budgeting – This week, we continued preparation on the 2017 State of the County address and discussion regarding the goals for the 2017 budget.  These will be presented to you at the June 14 County Board meeting.
UWWC – On Wednesday, I had lunch with Jackie Joseph Silverstein, Regional Executive Officer and Dean.
We continue to have monthly lunch meetings to stay in tune with one another, and with how things are at the UWWC campus. COUNTY BOARD…As a reminder, if you plan to attend the UWWC City/County luncheon immediately following the County Board meeting on June 14th, please RSVP to Linda Doro by Monday.
This is a great networking opportunity to hear about the University and I encourage you to attend if your schedule allows!

EDWC Business Development – On Thursday I attended a meeting of the Economic Development Washington County (EDWC) Business Development Committee.  The group met to continue to develop a strategy to increase investment with private partners to help offset the total tax dollars necessary to operate.  If you or someone you know might be interested in an annual investment in EDWC, please contact me for more information.  Remember, an investment in EDWC is really an investment in economic prosperity in Washington County!

City of West Bend HR Assistance – Also on Thursday Human Resources Director Todd Scott and I met with officials from the City of West Bend to discuss shared HR services during the vacancy of their HR Director and City Administrator.  We had a productive meeting, which revolved around the key concepts presented to the Administrative Committee.  The City Council will be considering the proposal at their meeting this coming Monday, after which we hope to have a final agreement put together for implementation.

West Bend School District Superintendent Search – On Thursday evening I had the opportunity to participate in a stakeholder panel where we observed a 30 minute presentation by the two candidates for the office.  It was an honor to be involved in such an important decision for WBSD.  I expect we will hear the decision of the school board in the coming days.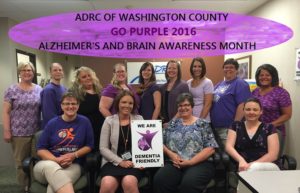 ADRC– In honor of Alzheimer's and Brain Awareness Month, all ADRC staff received dementia-friendly business training and received their Purple Angel for their accomplishment.  Businesses can contact Tammy at the ADRC and become a dementia-friendly business.  Photo commemorating the excellent work of our ADRC Team!
Personnel
Welcome!!
Steve Canales (Summer Help) – Facilities
Moving On…
Jody Marks, Samaritan Health Center – Resigned
Active Recruitments
Activity Aide, CNA,  Dietary Aide,  LPN, Registered Nurse, RN Relief Supervisor, Switchboard Operator/Receptionist – Samaritan
Psychiatric Social Worker – Human Services Department
Accounting Clerk, Communications Officer, Corrections Officer – Sheriff's Department
HR Generalist – Human Resources
CONGRATULATIONS to the following employees for their years of service at the County!!
10 YEARS
Kara Dunse – Human Services Department