West Bend, WI – On Friday, July 5, the West Bend Baseball Association (WBBA) is hosting a ceremony at 2 p.m. at Regner Park to kick off fundraising efforts for the Carl M. Kuss Field renovation.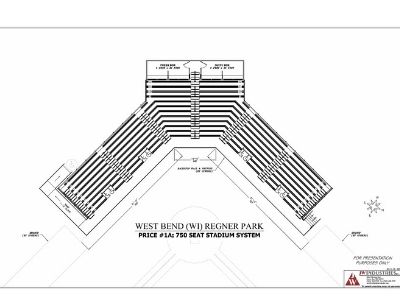 "The ceremony will be a small announcement at the park letting everyone know that we are kicking off this fundraising campaign, and asking the general public for help," said John Rozak, Executive Member of the WBBA.
"We'll be announcing we have a website and a post office box if anyone wants to donate, and you'll be able to pick up brochures around West Bend. We will also be mailing to a group of about 350 people asking for donations. The project is $2.2 million and we've gotten commitments for about $1.6 million so far."
City officials from West Bend will be in attendance, along with the members of the West Bend Baseball Association. Willie Mueller, the president of the WBBA, and Prudence Pick Hway will most likely lead the ceremony. 
"Cal Ripken will not be coming, but he has a commitment to come when the ballpark is up and running," Rozak said.
The first phase of the renovation is the baseball field and grandstand, which is slated for construction in August of 2019. 
"The grandstand is 100 years old and it will probably be torn down," said Rozak. "Some of the old parts are deteriorated and it just can't be repaired anymore. One of the proposals was to sell the parts for the fundraiser, but it would delay our project by three months. We would have liked it to be saved, but it's just not safe. The West Bend sign on the top of the grandstand will be kept. The final part of the new grandstand is still being developed, but there will be a separate section for handicap, scorekeeper, and so on."
The second phase of the renovation is the bathrooms and concession stand, which is expected to start some time in 2020.
"We hope the people in West Bend will help us to the completion of the project," said Rozak.
Photo Credit: Craig Larsen