WB West comes out strong vs. Wisconsin Lutheran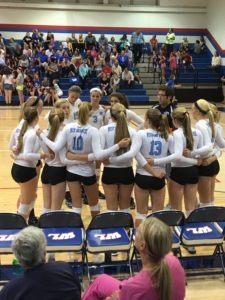 West Bend West girls varsity volleyball traveled to Wisconsin Lutheran to compete in its first Wisconsin Little Ten conference match up and West dominated the court sweeping Wisconsin Lutheran 3-0.
Wisconsin Lutheran started the match competitive, but slowly and surely West gained the lead.
This is one thing Coach Alison Tanking admired about her team. "We did a good job taking the lead and keeping it," Tanking said in a post-game interview.
Tanking took pride in the teams' serving. "We had some very aggressive serves," she said.
Assistant Coach Kevin Buettner chimed in saying the girls did a good job serving to a designated zone.
Senior Lauren Klemstein went on a 12-point serving streak in the third set.
A key player in tonight's match was the 6'1″ freshman Maddie Baker.
She said she was nervous going into the game, uncertain whether or not she was ready for this. But through the match, one could see she was more than capable having earned her spot on the team.
Baker expressed gratitude for other freshman that cheered her on throughout the game.
The other freshman who have spots on the West varsity include Kaya Faehling, Maddie Rettler, Emily Fait, and Sidney Paulson, who had nine kills in tonight's match.
West Bend West will go on and take the role as pirates as they seek to take the ship this weekend at the New Berlin West Tournament, where there will be tough competition; but the West is confident to make a statement.