WBHS administrative assistant Ruth Ruh glides into retirement. The End of an Era By Hannah Bensen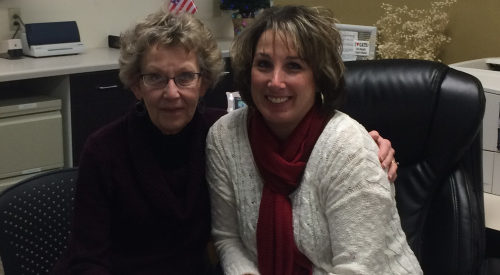 Dec. 13, 2016 – The Current has published a nice article by student Editor in Chief Hannah Bensen regarding the retirement of Ruth Ruh.
Ruh has a longstanding tie to the school district having graduated in 1969 and then working since 1992 as the administrative assistant to the principal. Below is a portion of Bensen's article, a tribute to Ruth Ruh.
"I credit Mrs. Ruh for much of the success that I enjoyed at West Bend East," said Mary Skalecki, who served as principal at East High School from 1988-2004. "She truly was my partner, very loyal and supportive to me and the administrative team."
Ruh stumbled upon her area of employment unexpectedly. After graduating high school, she studied art in various areas of post-secondary education for two years. She then worked in retail until one summer when she discovered that Leslie Howard, the principal of Badger Middle School at the time, desperately needed office help.
"I went and talked to Mr. Howard, and he hired me on the spot," Ruh said. "And I stayed there for eight years and never went back to school."
After working at Badger from 1980-1988, Ruh worked as coordinator for the district's gifted and talented program. She then became the attendance secretary at the high school for two years before being hired by Skalecki as the administrative assistant in 1992, and has worked in that position ever since.
Ruh's tenure has been so long that she has worked with five different : Mary Skalecki, Cassandra Schug, Jim Curler, Bill Greymont and Tracey Conners, who is currently serving as the interim principal at WBHS.
To read the rest of Hanna Bensen's article on Ruth Ruh log onto The Current or CLICK HERE.
(Photograph by Hannah Bensen, Editor in Chief.)