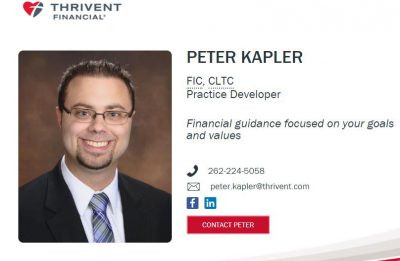 August 24, 2018 – West Bend, WI – Welcome Peter Kapler from Thrivent Financial as a new sponsor of WashingtonCountyInsider.com
Kapler's office is 801 E. Paradise Drive in West Bend.
A bit about Peter Kapler:
I have been serving people through roles in financial services for more than a decade. I love finding solutions to meet the needs of our members through helping them be wise with what they have been blessed with. I particularly enjoy helping members navigate the complexity of retirement strategies. I am passionate about helping families like my own save for and protect their future. I love being a part of Thrivent because it allows me to be a Christian every day through caring for God's people in the work that I do! My wife and I are blessed with four wonderful daughters. We attend Good Shepherd church in West Bend, WI. We love to camp, swim, fish and spend time with our loved ones!
Click HERE to read more about Peter Kapler and his involvement in West Bend and Washington County.
Thanks to businesses in Washington County for helping support WashingtonCountyInsider.com as a free local news source.
WashingtonCountyInsider.com provides first-run stories seven days a week from a trusted reporter who has lived in the community 30+ years.