West Bend Dance Tumbling Troupe wins National Championship Awards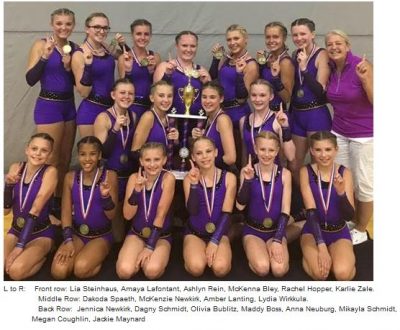 July 19, 2017 – West Bend, WI – The West Bend Dance Tumbling Troupe won the National Acrobatics and Tumbling Championship and the Gold Medal for Best in Show at the USA Gymnastics National Championships held July 1 in Cincinnati, Ohio.
The Troupe is coached by Jackie Maynard, Anna Neuburg, Jena Reisdorf and Jamie Brettingen.
If you would like to see the Troupe "in action" they will be performing in Regner Park this Saturday, July 22 at 4 p.m. during Relay for Life, also at the Washington County Fair on Friday and Saturday July 28 and 29 at 6 p.m., and at the Museum of Wisconsin Art's, Chalk and Art Fest on Saturday, July 29 at 2:30 p.m.