West Bend East H.S. snowboarder Hunter Zaskowski tearing up the course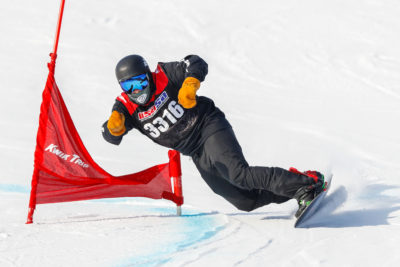 Feb. 7, 2017 – West Bend, WI – West Bend East High School junior Hunter Zaskowski is starting this snowboarding season where he left off last year, in the winners column.
During the recent Mount LaCrosse Cup High School Invitational Snowboard Cup Race held at Mt. LaCrosse Zaskowski took 1st place in Giant Slalom, 2nd place in Slalom, 2nd place in Boardercross and he was the Overall Cup Race Champion which meant he was the most consistent racer with the most points on the day.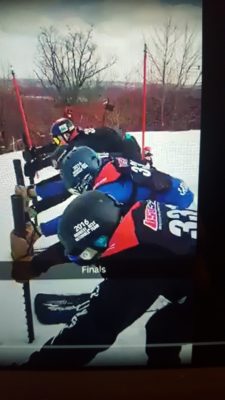 Zaskowski received medals for all three races and a Cup Buckle as a trophy. 
"The cool thing was race officials announced him as West Bend High School East Junior winning the Overall Cup Race 2 years in a row," said mom Jenny Zaskowski.  "They remembered him from last year which was pretty neat."
 Zaskowski is a Midwest Best Club Member in addition to the High School team and he competes under USASA to earn points for Nationals which is this spring in Colorado at Copper Mountain.
Other West Bend High School students in top 3 at some point during the season.

Cole Rummel (West Freshman) – Feb. 5 at Alpine placed 3rd in Boardercross.  Jan. 29 placed 3rd in GS at Sunburst
Kelci Waters (West Sophmore) –  Jan 28 placed 2nd in GS and Slalom.  Jan. 29 placed 2nd in GS, 3rd in Slalom, January 14 placed 3rd place for GS.  LaCrosse Cup Race 3rd Place GS
RECAP FOR TOP 3:
HUNTER ZASKOWSKI- 1 overall champion medal, 1 fastest rider of the day, 5 first place, 3 second place, 1 third place
COLE RUMMEL – 2 third places
KELCI WATERS – 2 second places, 3 third places
*Hunter & Cole Rummel from W.B. High School both trained for three days of camp at Sunburst Ski Hill over winter break with Justin Reiter, a snowboard Olympian.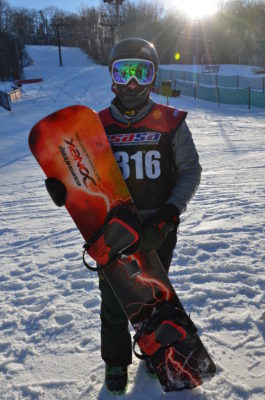 Hunter Results to date:
The scores are his individual score and then I put the High School Overall score which places us in the conference for state points.  Our varsity team is going to state Feb. 18 and 19. 

Feb. 5:  Alpine Valley.  1st place Boardercross.  WBHS is 1st in conference for Boardercross.  Hunter made it to finals as a USASA competitor this day and placed 2nd for USASA (video of race on team Facebook).
Feb 4:  Alpine Valley.  3rd place Boardercross
Jan 29:  Sunburst Ski Hill.  1st PLACE Giant Slalom, 1st PLACE Slalom, and Fastest racer of the day.  WBHS placed 2nd in GS and 1st in Slalom as a Team.
Jan 28:  Alpine Valley.   1st PLACE in Slalom.  WBHS placed 1st in Slalom and 2nd GS as a Team.
Jan 14: Tyrol Basin.  2nd place in Giant Slalom.  WBHS placed 1st in conference for GS and 2nd for S.
Photos courtesy Jenny Zaskowski