West Bend East takes 2nd place in annual Travis Wichlacz Memorial Duals | By Denny Ziegler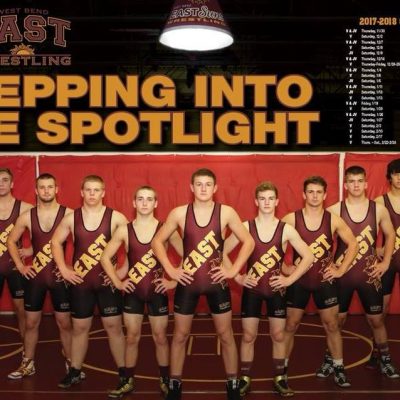 Jan. 7, 2018 – West Bend, WI – The West Bend East Wrestling team went 3-1 in dual action Saturday placing 2nd in the annual Travis Wichlacz Memorial Duals on Saturday.
The Suns beat Brookfield East, West Bend West and Menasha before falling to Germantown in a close finals dual that went down to the last match.
Leading the Suns going 4-0 on the day were Sophomore 126 pounder Cayden Henschel, Senior 152 pounder Bryce Henschel and Junior 160 pounder Cooper Schlosser. Going 3-1 on the day was Freshman 106 pounder Cael Pionkowski, Freshman Jordan Ward at 113, Sophomore 120 pounder Dan Ciriacks, Freshman 132 pounder Crosby Schlosser, Sophomore 138 pounder Damian Zapata and Senior 170 pounder Kyle Yochem. The Suns improved to 7-1 on the season and are in action next on Thursday vs. Port Washington.
Also on Saturday, the JV Squad competed in the JV State Qualifier at Homestead. Top two in each weight class qualifies for JV State in Wausau. The Suns' were lead by 106 pounder Darrin Parve who went 3-1 placing second place and qualifying for JV state. Junior 182 pounder went 4-1, Freshman 160 pounder Brady Schmidt went 3-2, Sophomore 195 pounder Evan Smith went 2-2, freshman heavyweight Jake LaVanway went 2-2, freshman 145 pounder Aden Orth went 2-2 and freshman 132 pounder fought hard through sickness going 0-2.