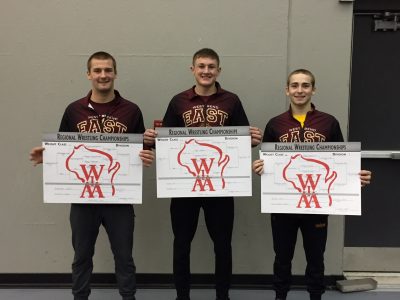 Feb. 11, 2018 – West Bend, WI – With only 9 of 14 weight classes filled, the West Bend East wrestling team placed a respectable 3rd out of 8 teams at the regional tournament held at Cedarburg High School on Saturday.
Top 4 place-winners in each bracket move on to sectionals next Saturday, Feb. 17 at Sheboygan South High School.
Leading the way for the Suns with regional championships were sophomore 126-pounder Cayden Henschel, senior 152-pounder Bryce Henschel and junior 160-pounder Cooper Schlosser.
Placing second at regionals was Sophomore 120 pounder Dan Ciriacks, freshman 132 pounder Crosby Schlosser and senior 170 pounder Kyle Yochem.
Placing 3rd was freshman 113 pounder Jordan Ward. Placing 4th was freshman 106 pounder Cael Pionkowski and placing 5th was sophomore 138 pounder Damian Zapata.
Top two in each weight class at Sectionals on Saturday move on to the WIAA State Championships in Madison Feb. 22 – 24.