West Bend RN Sharon Miscikowski honored with DAISY Award | By Timothy Olsen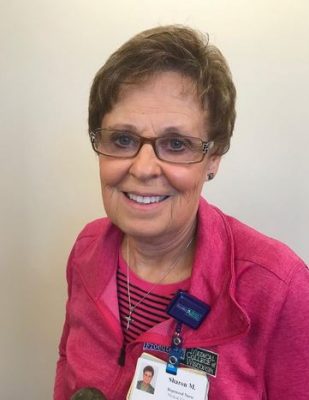 Nov. 11, 2017 – West Bend, WI –  Sharon Miscikowski of West Bend, a RN on the Med/Surg unit, has been recognized with Froedtert & the Medical College of Wisconsin St. Joseph's Hospital's second quarter DAISY Award for her patient care and professionalism.
"While my sister spent her last few days here at SJH and had wonderful care by numerous patient care staff, to me this nurse went above and beyond," said award nominator Lori Keon. "She treated our family like her own, constantly asking if she needed anything, making sure she was comfortable or if my family needed anything.  You could tell in her eyes how much she cares."
The DAISY Foundation, an acronym for Diseases Attacking the Immune System, recognizes nurses as unsung heroes of our society who deserve more recognition and honor than they receive. More than 1,900 hospitals throughout the United States participate in The DAISY Award program.
The DAISY Foundation provides each recipient with a sculpture, "A Healer's Touch," which is hand-carved for the foundation by artists of the Shona Tribe in Zimbabwe. The sculpture is made of Serpentine stone that comes from the mountains "where the most powerful shaman" live in Zimbabwe. The foundation chose this design not only because it depicts the relationship nurses have with their patients, but also because the Shona people hold their healers in a position of great importance to the community and feel about their healers the way The DAISY Foundation and St. Joseph's Hospital feel about nurses.
At St. Joseph's Hospital, Sharon was honored at a recent ceremony at which she received a certificate, pin and the sculpture.
Froedtert & the Medical College of Wisconsin St. Joseph's Hospital, founded in 1930 by local doctors, community leaders and the Sisters of the Divine Savior, is a full-service hospital serving residents of West Bend and Washington County. St. Joseph's Hospital specializes in women's health and birthing services, cancer care, surgical procedures and rehabilitation services. It's part of the Froedtert & the Medical College of Wisconsin health care network, which includes four community hospital campuses, more than 1,600 physicians and nearly 40 health centers and clinics, drawing patients from throughout the Midwest and the nation.