April 5, 2019 – West Bend, WI – There was much excitement as the girls Rush Lacrosse team faced its new team's first game Tuesday April 2, 2019 against Hartland Arrowhead's JV Red Team.
Coaches Maggie Goodman and Emily Kuhlman, both former Concordia University lacrosse players, had worked with a co-op team comprised of students from Slinger, Grafton, West Bend East and West Bend West in teaching the basics.;  22 of the 29 players had never touched a lacrosse stick prior to several weeks ago.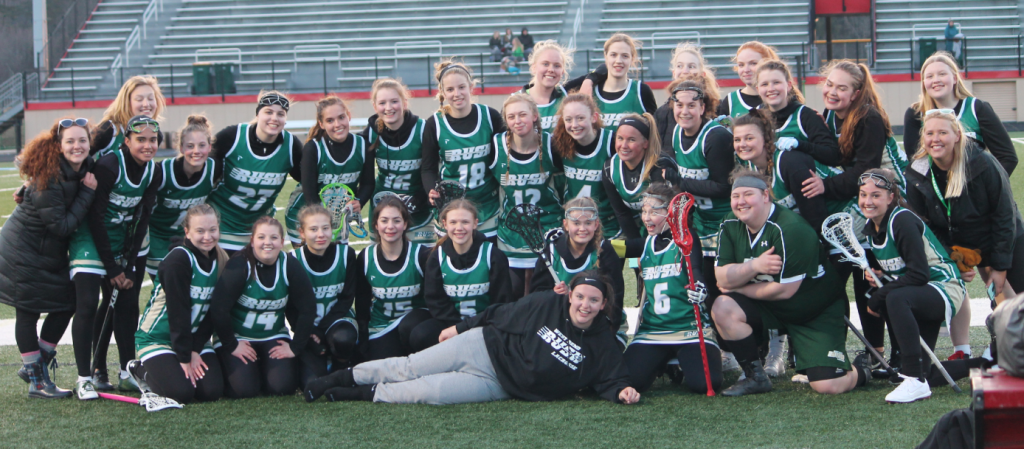 Going into the game, it appeared both teams being equally matched, it was touch-and-go throughout the game.
Rush's first goal was scored by Grafton High School junior Jaden Mirek at 2:30 into the start of the game, followed up by a second goal at 3:15 into the game.  At this point Arrowhead was not having any of it pushing hard to score a retaliatory goal at 4 minute 30 seconds in the first half.
The Rush team fought back, with goals scored by West Bend junior Kelsi Knoll  and another by Grafton's Jayden Mirek;  finishing up the first half of the game 4 to Arrowhead's 3.
The second half of the game found Arrowhead re-grouped and pushing to stop The Rush.  Arrowhead put three additional points on the board in the first 12 minutes.
The Rush came back with a goal scored by West Bend East sophomore Kameryn McCardle at 14 minutes into the second half.  Possession in the final 10 minutes of the game kept moving as each team tried to secure a win.
The score of The Rush at 5 and Arrowhead 6, found the incentive for The Rush to make a final push for a game tying goal scored by Jayden Mirek with 52 seconds left.
The final score was a 6-6 tie between The Rush Girls High School Lacrosse team against Hartland Arrowhead JV – Red Team.
Rush game goalie, Rilie Postulka, a junior at West Bend West, saw 16 shots on goal, with 10 saves yielding a save percentage of 62.50 percent.  Not bad for a girl who just picked up a goalie stick about a month ago.
We are very proud of the excitement, commitment, and camaraderie of this new girls high school lacrosse team.
We look forward to great things and future growth from a group of girls who, for the majority, had no idea what they were getting into, but decided to give lacrosse a shot.  Go Rush!