West Bend teams with EDWC to support expansion of EPIC Creative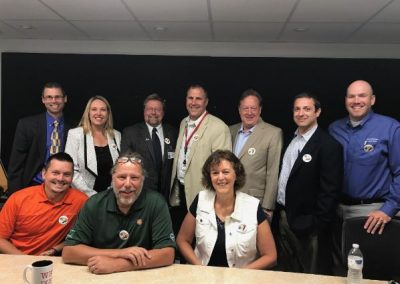 August 23, 2017 – West Bend, WI – On Wednesday morning EPIC Creative received incentive funding from the City of West Bend and Economic Development Washington County (EDWC) to support the expansion and build-out of its new headquarters,  300 S. Sixth Ave., West Bend.
On Monday, Aug. 21, 2017, the City of West Bend approved allocating funding from its revolving loan program under terms recommended by the EDWC Revolving Loan Fund Committee.
EPIC Creative President and CEO Jim Becker said the decision to move was necessitated by the significant growth the company has realized in recent years.
"We have a great staff that treats our clients well and puts out an awesome product, which has led to increased demand," said Becker. "With support from the City of West Bend and EDWC, our new headquarters will offer a better work environment for current staff and the ability to comfortably accommodate future growth, underscoring our commitment to our clients, our employees and our community."
"West Bend and Washington County continue to prove various levels of government can work together for the betterment of their communities," states Kraig Sadownikow, Mayor of the City of West Bend.
"EPIC Creative is the latest example of the success that can occur when the entrepreneurial spirit is combined with appropriate governmental support.  EPIC has been an important organization in West Bend for decades.  We are excited about their growth and enthusiastically welcome them to our downtown."
To support the success of the company, the City of West Bend and EDWC put together a joint package for EPIC Creative that includes $240,000 in low interest financing offered through the Washington County Impact Revolving Loan Fund and $150,000 in low interest financing offered by the City of West Bend.
"This collaborative effort demonstrates how EDWC's focus on who's already here pays compounding dividends back to our communities," said Christian Tscheschlok, Executive Director of EDWC.
In 2012, EDWC partnered with West Bend to support Delta Defense's purchase of this Sixth Avenue property, then the former home of the Museum of Wisconsin Art.  EDWC and the city recently participated in Delta's construction of a new headquarters, which it required to support its rapid growth.  That project now enables EPIC an opportunity to grow into Delta's former home.
"The growth of these companies and awesome remodel and reuse of an important existing property could not have happened without such a purposeful and targeted use of scarce incentive resources," Tscheschlok added.
Photo courtesy Jim Becker