West Bend West Lady Spartans are Conference Champions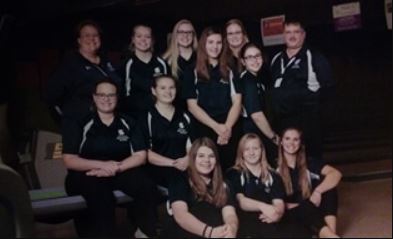 Jan. 18, 2018 – West Bend, WI – The West Bend West Lady Spartan bowling team just became District 7 Conference Champs this week with a record of 16-2. 
"We have about 10 members on the team," said sophomore Alexis Jacak. "We played Hartford and Kewaskum and took the title."
The club team is coached by John Guillaume.
"We have a strong team because we have great camaraderie and we have really good communication," said Jacak. "We're a pretty evenly matched on the team as far as overall talent and we know how to read the lanes."
Coach Deb, Emma Nordgren, Gwen Hovorka, Theresa Farrell, in the back row second row is Sarah Guillaume, Abby Voge, Addison Jacak, Sage Flynn, Coach John Guillaume front row is Rachel Van Allen, Jazmin Koeberl, Alexis Jacak
Sectionals are January 28 in Sheboygan.
Last year the Spartans finished in fourth place in state.