West Bend West senior and her parents take part in Salvation Army bell ringing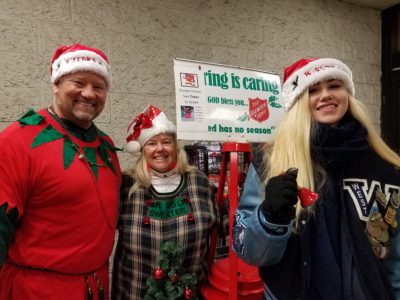 Dec. 19, 2016 – West Bend, WI – Tait Mauland, a 17-year-old senior at West Bend West and her parents, Tami Mauland, a retired teacher from Badger Middle School, and Dr. Wade Mauland, a retired CEO of Ottawa University, recently enjoyed volunteering as bell ringers for the Salvation Army.
Tait, a scholar athlete,  member of the National Honor Society, Key Club, and the West Varsity Dance Team,  signed up for two shifts to fulfill her 2nd quarter requirement for Key Club an international student-led organization which provides members with opportunities to provide service, build character, and develop leadership.
Tait, asked her parents to join her for her first round of bell ringing.
"My dad was a big hit wearing his elf costume," she said. "One female shopper asked him to sing a song for her and when he started with a rendition of 'Joy to the World,' the lady joined in."
Dressed in her Spartans letterman's jacket, Tait and her parents came up with creative ways to entertain shoppers and encourage donations.
"I had Christmas music on my cell phone and my mom and I even did a little dancing," said Tait. "My dad had us do the Mannequin Challenge and shoppers reactions were priceless as we would freeze our positions every so often to catch shoppers off guard."
The trio handed out free candy canes and Hershey's Kisses and found people very generous.
"West Benders are so giving," said Tait. "The majority of the people that came through the doors at Shopko donated money and some even donated twice, once on  the way in and then on the  way out!
"I thought it was neat that some even thanked us for giving up our time to be bell ringers."
This was  Tait's third year ringing bells and my most memorable. "My dad found on a website that for the Salvation Army, 96 cents out of $1 goes to it's mission," Tait said. "This was a real rewarding experience."
Photo courtesy Tait Maudland