May 19, 2020 – West Bend, WI – There will be no gemütlichkeit or oom-pah-pah taking place in West Bend this summer. At least not in any of the parks across Washington County.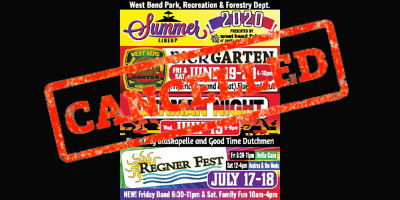 All community events in West Bend Parks are cancelled for summer 2020.
On Monday, May 18, West Bend City Administrator Jay Shambeau presented a resolution to the Washington-Ozaukee County Public Health Department Blueprint for reopening Washington and Ozaukee Counties. The resolution passed on a 7-1 vote with Alderperson Mark Allen voting against. The Blueprint does not allow for community events, therefore, West Bend Biergarten, German Night and Regner Fest have all been cancelled for the summer of 2020.