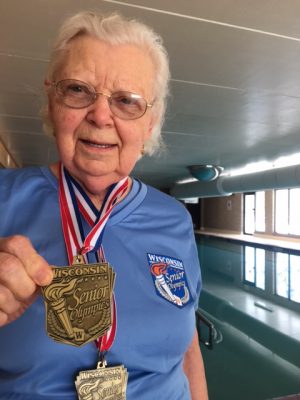 March 27, 2017 – West Bend, WI – This Saturday, 93-year-old Edith Schultz of West Bend will be inducted into the 2017 Wisconsin Senior Olympics' Hall of Fame.
"I have made already 20 copies of this letter to send to my family and friends," said Schultz with a thick German accent. Earlier this month Schultz received a letter of notification.
"A remarkable achievement and an inspiration to athletes of all ages," said the note from Senior Olympics executive director Mollie Bartelt.
An avid swimmer, Schultz will be recognized for her 10-year history of competing in the Wisconsin Senior Olympics.
A self-taught swimmer, Schultz has mastered three strokes including the breast stroke, back and side stroke. "I get three gold medals every year," she said. "Except the first year I got only two.
"I have 29 medals and that's more than Michael Phelps; he has only 27," she said comparing hardware with the well-decorated Olympic swimmer.
Schultz lives at Cedar Ridge in West Bend. She chose the facility because it has a pool.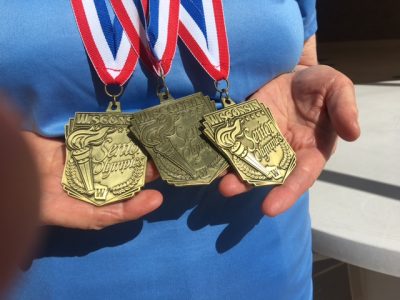 Schultz comes out of the back bedroom in her apartment wearing three of her Senior Olympic medals.  "If we take a picture of them in the sunlight they shimmer like gold," she said.
Down to only a handful of medals in her collection, Schultz has been distributing them as gifts over the past few years. "I give them to my children, grandchildren, great grandchildren and special friends too," she said. "I give one to my tax man because he does a good job."
Schultz even rewarded her doctor who fixed her kneecap when she fell and broke it into four pieces. "He had tears in his eyes when I gave him this medal; he was so emotionally happy," she said.
A handwritten card accompanies each gift. It reads, "Always do your very best. Signed Edith Schultz."
A tiny woman with round glasses, Schultz has heaps of spunk and a fascinating history.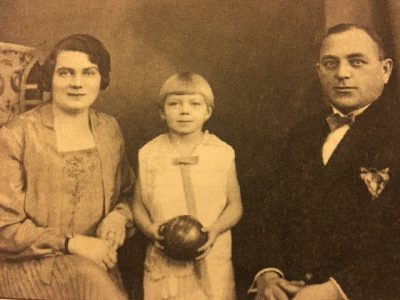 Edith Hentschel was born in Lodz, Poland in 1923; she survived WWII and the Hitler Youth, became a war bride in 1947 and immigrated to the U.S.
Schultz has written a 214 page book about her life, "From Riches to Rags to Riches with the Grace of God."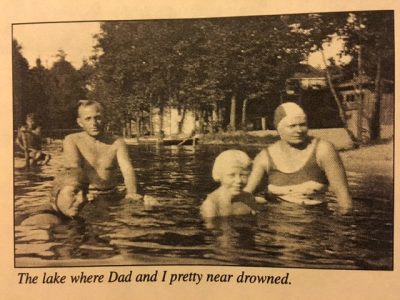 Schultz details growing up in a Christian family, singing in the choir, learning English and reading stories of Robin Hood.
In 1939 Schultz wrote about rumors Hitler would go to war against Poland. "German troops came into our town. We were issued ID cards. The Jews had to wear arm bands.
"In January 1945 chaos broke loose. My hometown of Lodz was bombed. I reached Berlin with the horse and wagon in four days just staying ahead of the Russians bombing and shooting. My faith in the Lord helped me get through those tough times."
Hear more of Edith Schultz's story below.
Side note: On April 4, Edith Schultz will celebrate her 94th birthday.