West Bend, WI –  "I think I was in fifth grade," said Carol Strack Roecker about the photo from 1947. The picture was taken during recess at McLane School.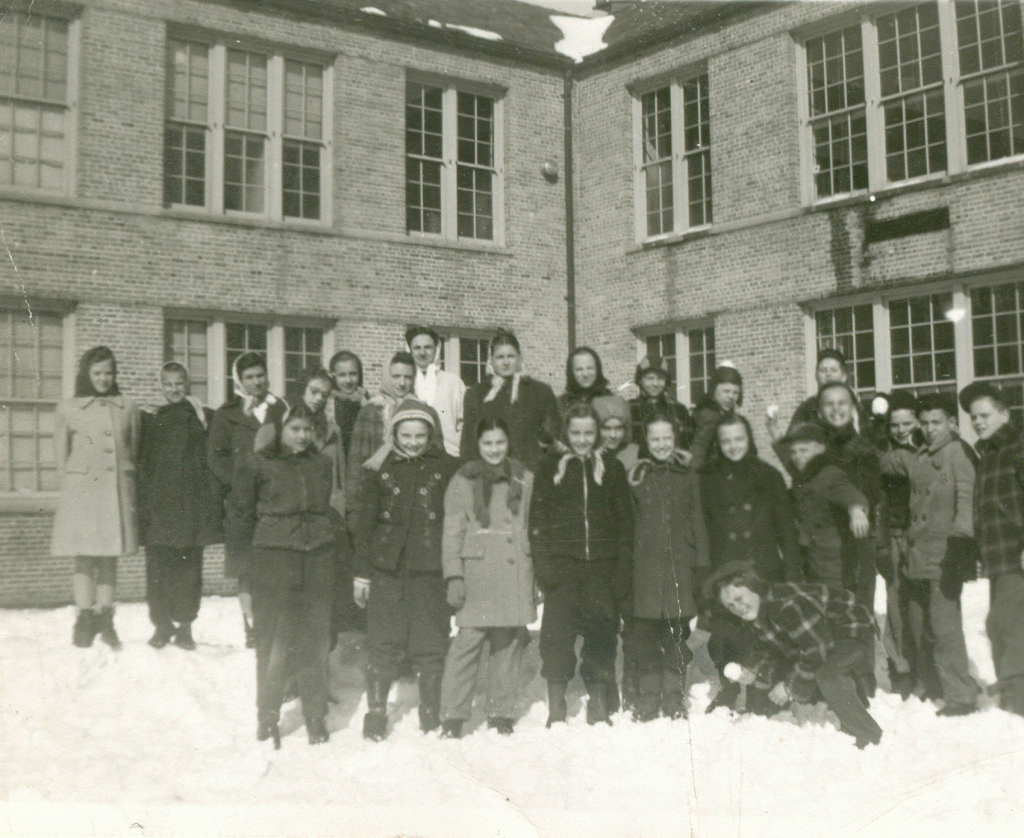 A history check on Wisconsin winter 1947 brought up stories of a huge snowstorm that hit the state January 28, 1947.
A compilation of articles talk about motorists abandoning their cars, people seeking shelter in taverns, and a restaurant running out of buns so it served hamburgers between two cookies.
Click HERE to read more.
What are your memories about the worst storm in Washington County?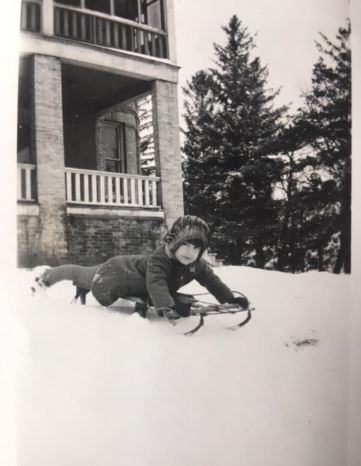 On a history note: Carol Strack Roecker was featured in an article in Around the Bend in September 2014 when McLane School was set to celebrate its 75th anniversary.
McLane memories    Originally published September 13, 2014
The 75th anniversary open house at McLane School is today. Neighbors sent in their memories about McLane
Carol Strack Roecker, 80, was in the first class to graduate McLane. "My kindergarten teacher was Miss Berg and I remember we had a bluish light or an ultraviolet light in front of the classroom that was supposed to kill germs," she said.
Roecker recalled walking home from school for lunch, referring to the Ottmer house as the 'haunted house' on the hill, and the dances put on by each class. "We had a May festival," Roecker said. "The gym teacher would help organize a program for our parents. Each classroom performed an ethnic dance from different countries."
Marolyn Kell was also in the class from 1941. She remembered the school-wide celebration in May, the skits and "taking hold of ribbons and dancing around the May pole in the gym."
"In kindergarten we would sleep on rugs for afternoon naps when we only went to school half a day. I guess kindergarten needed more rest in 1941 than now," Kell said. "I also remember our principal, Mr. Peterson, distributed match books with his name on the match book. Tom Oelhafen still has one."
Nancy Slinde was a substitute elementary teacher and classroom aide in the early 1990s. "My children also went to McLane and my son had Al Pauli as his kindergarten teacher," she said. "The thing I always loved about working at McLane was it was always a community of learning; it was always a beautiful flow of commitment to the kids and the environment was always respected and protected so it stays that way."
Slinde recalled principal Toni Baumann and how she always had an inspiring theme each school year like the All Stars or 'Putting your best foot forward.' "The classrooms that really were stellar that week got a gold, spray-painted tennis shoe that was on this little pedestal," said Slinde. "They really worked hard for that."
Slinde also recalled secretary Mary Riffel who was efficient, firm, gracious and had a good sense of humor to keep things flowing. "She was an important part of the life of the school," Slinde said.