October 2, 2019 – West Bend, WI – You made it.  You worked hard, met your goals, and you are ready to grow your business with a new building or an expansion.  Now you're starting to think about what the next steps are, and you begin searching for a general contractor in your area.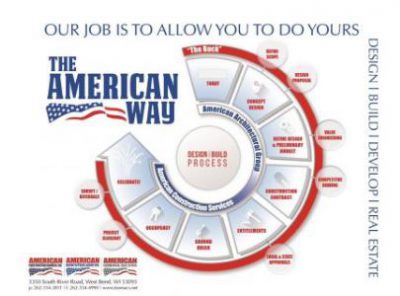 Finding the right contractor for your commercial project is an important decision.  Sometimes, an owner will get a few bids, pick the cheapest one, and move on with the process.  However, the lowest bid isn't everything.
There is an old saying, "You get what you pay for."  In the architectural and construction world, this concept could be demonstrated in hundreds of ways throughout the design/build process and for years after completion.
For example, if you don't have proper roof and window flashing, you will have leaks down the road.  If proper rebar isn't used for block walls, the building won't be structurally sound.  If correct engineering isn't used for the building, electrical, and plumbing, you won't have the appropriate size to accommodate your project.
At American Companies we understand the importance of cost.  You work hard for your money and want to get the most with it.  We also understand the importance of trust, quality, communication, relationships, and reputation.  We view the owner/contractor relationship as just that, a relationship.
At American Companies we communicate openly, honestly, and often.  We have a proven track record and proven process that provides quality work and builds trust.
American Companies have almost 40 years of experience in this industry.  We know what it takes to get your project completed on time, on budget, and to your expectation.  We get to know you, your business, and your goals.  We help you determine exactly what you are looking for, and how to meet your needs.
When provided with a design, a contractor could provide endless possibilities for options to fit the plans.  Our goal is not to just provide you with a building at the end.  Our purpose is to provide a process that both our company and customers can be proud of, while completing projects that exceed our customers' expectations.
To discuss your project, please contact American Companies Director of Business Development: Deb Reinbold, [email protected] , 262-334-3811
About American Companies
Together, American Companies are a full-service Commercial Design l Build l Develop l Real Estate firm which includes American Construction Services (ACS), American Architectural Group (AAG) and American Commercial Real Estate (ACRE).  Since 1980, ACS and AAG have built a solid reputation through their expertise in construction management, architectural design and structural engineering.  ACRE was added in 2018 to round out their portfolio by offering property sales, leasing, management and investment services.
American Companies is based in West Bend, WI and serves the northern Midwest states.  The business specializes in commercial and industrial buildings including hospitality, medical, retail and multi-family facilities.