December 4, 2020 – Town of Farmington, Wi – Willard J. "Bill" Schwinn, 101, of the Town of Farmington entered God's greener farmland on December 2, 2020 at his home on the Schwinn homestead.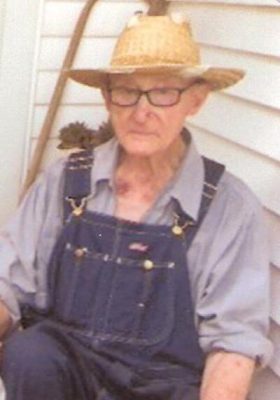 Willard was born on July 18, 1919, the son of the late Theodore and Olive (nee Lang) Schwinn.
Willard was united in marriage to Rita Mrazik on June 10, 1950 at Holy Angels Catholic Church in West Bend.
He loved and worked his farm in Fillmore for most of his lifetime, but also worked for the Fredonia Cannery, The Chicago and Northwestern Railroad, Kenro Corporation in Fredonia, Johnson Hydraulic Gear, Weasler Engineering, and was a lifetime honorary member of the Fillmore Fire Department. Willard was also a team player for the National Farmers Organization (NFO).
Willard had a passion for Herford Feeder Steers and a love for Chester White Hogs. He was also proud of driving his 272 Leland Tractor and had a great love for his Ford 8N tractors, calling them his Little Henry's for which he was still able to drive around the farm at the age of 101. "How Remarkable!"
Those Willard leaves behind to cherish his memory include his brother-in-law Franklin Mrazik and his friend Dee Kilby, his nieces and nephews: Thomas J. (Linda) Schwinn, Elizabeth (William) Ermer, Gary (Peggy) Furger, Nancy (Jerry) Mehring, other nieces, nephews, other relatives and friends.
In addition to his parents Willard was preceded in death by his wife Rita, two brothers Elmer Schwinn and Arvin (Marian) Schwinn and his sister Delores (Frank) Loichinger.
A Mass of Christian Burial will be held Wednesday, December 9, 2020 at 1:00 p.m. at Holy Trinity Catholic Church in Newburg. Due to the pandemic there will not be a visitation. Burial will follow in Holy Trinity Cemetery. In lieu of flowers memorials to Fillmore Fire Department are appreciated.
Our family would like to extend a special and heartfelt Thank You to caregivers Ann and Roger Schneider of Kewaskum, Sue Kloehn of Germantown, Horizon Hospice and Dr. Preisler of the Kewaskum Clinic. Thomas would also like to thank his wife Linda for the great care and love that was given to Uncle Bill for the last 3 ½ years!
The Schmidt Funeral Home in West Bend is serving the family.