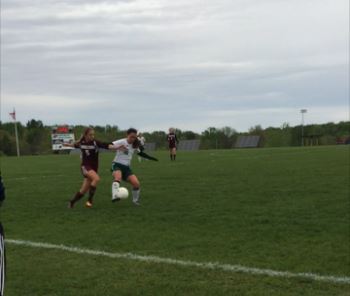 May 20, 2017 – Jackson, WI – Kettle Moraine Lutheran's girls' varsity soccer team faced off against Winneconne on Friday. A strong wind blowing in from the north gave each team an advantage during opposite halves.
Precise passing and quick movement by Winneconne assisted their play on offense. In the eighteenth minute, Winneconne scored to take a 1 – 0 lead.
Near the end of the first half, a handball within Kettle's goal box gave Winneconne a penalty kick which connected with the far left post of Kettle's goal.
A strong offensive drive by Kettle created a shot opportunity for senior wing Abigail Malchow. Her shot deflected off a Winneconne defensive player and went into the goal. The final score had Winneconne over Kettle 2- 1.
Kettle has been using its games to improve passing skills and first touches said Kettle assistant coach Jeff Bernarde.
Anticipating another competitive game, Kettle is looking forward to playing Kewaskum again on Tuesday, May 23.