Winners in Holy Angels Basketball Classic advance to 2nd round on Friday. Click HERE to see final scores and team placement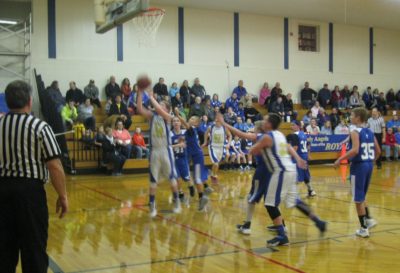 Jan. 18, 2017 – West Bend, WI – Some tough competition at this year's Holy Angels Basketball Classic.  Winners from Wednesday's opening round advance to Friday-night play.
Holy Angels vs. Good Shepherd
The 39th annual Holy Angels Basketball Classic began on Wednesday with the host school's 8th grade team jumping out to a 22-10 halftime lead in the opening round matchup with Good Shepherd.
The Royals extended their lead to advance to the championship bracket with a 44-21 win. Ty Stanek led all scorers with 15 points for Holy Angels, followed by teammate Aaron Tennies' 11 points. Connor Haeuser tallied 11 points for the Rams.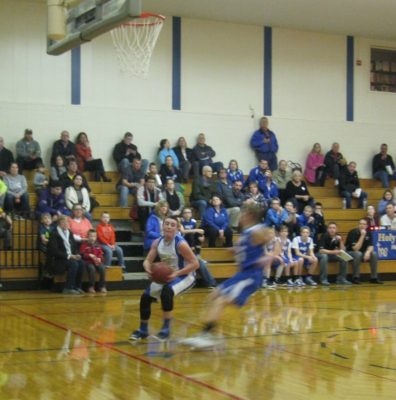 Badger White vs. St. Jude
Led by Brennan Timm's 9 points, Badger-White jumped out to a 11-2 first period lead over Wauwatosa St. Jude.
The Badgers maintained the lead en route to a 37-23 first-round victory. Timm led all scorers with 21 points while Landon Dott tallied 10.
St. Boniface vs. St. Mary-MenoFalls
St. Boniface and St. Mary-MenoFalls kept things close through the first two periods in their opening round game. St. Boniface used a 13-5 third period run to take control of the game and posted a 40-23 win. Owen Meyer knocked down 13 points and Josh Delfield chipped in 10 to lead the way for the Eagles.
Badger Red vs. St. Kilian
In the evening's finale, Badger-Red used scoring from eight players to defeat St. Kilian, 44-25. Leading the way for the Badgers was Trey Larson with 12 points.
St. Kilian's AJ Arndt led all scorers with 13 points.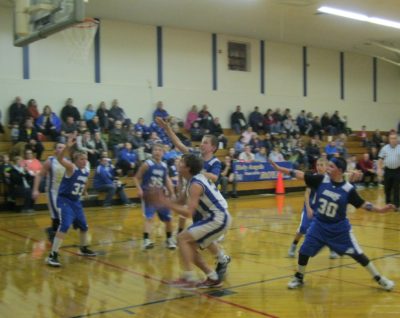 The Holy Angels Dance Team also performed during halftime.  The Halftime Shootout also provided some excitement as participants try to win a bike donated by Mountain Outfitters and a basketball camp provided by WCSS.
Second round action has been moved to Friday because of weather issues earlier in the week.  Championship games will be played Saturday morning.
Eighth-grade bracket click HERE
HOLY ANGELS CLASSIC-2017          7th Grade Pool Play
Pool A:                                                                                       Pool B:
Team A – Holy Angels Blue                                                      Team D – Holy Angels-White
Team B – St. Boniface                                                               Team E – St. Mary-Menomonee Falls
Team C – Badger-East                                                              Team F – Badger-West
Monday, January 23rd– 5:00 Team A vs. Team C                    Wednesday January 25th– 5:00 Team D vs. Team F
Monday, January 23rd– 6:00 Team D vs. Team E                    Wednesday January 25th– 6:00 Team B vs. Team A
Monday, January 23rd– 7:00 Team B vs. Team C                    Wednesday January 25th– 7:00 Team F vs. Team E
POOL PLAY STANDINGS: 1) Based on win-loss record in Pool Play; 2) If tied, point differential; 3) If still tied between two teams, head-to-head record.
Final Round:
Saturday, January 28th– 9:30    Pool A 3rd Place vs. Pool B 3rd Place  [5th/6th place]
Saturday, January 28th– 10:45  Pool A 2nd Place vs. Pool B 2nd Place [3rd/4th place]
Saturday, January 28th– 12:00  Pool A 1st Place vs. Pool B 1st Place   [1st/2nd place]
Please support the locally-owned businesses that support https://www.washingtoncountyinsider.com