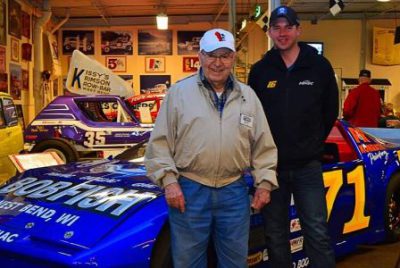 July 10, 2019 – Slinger, WI – On Tuesday, July 9, 2019, at the age of 95, Miles Melius aka "The Mouse" passed away leaving behind a long history of legendary wins on the Wisconsin's race tracks.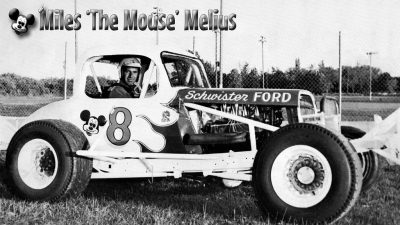 Melius began his racing career in 1947 and finished it up by retiring "#1" in 1967. In his hometown of Slinger he garnered 7 championships alone and was known as one of the winningest race car drivers in Wisconsin history. He was inducted into the Southeastern Wisconsin Short Track Hall of Fame in 2011.
Melius once claimed that he got into racing because he was "conned into it" by Deputy Sheriff William "Billy" Johnson. In an interview done on his 95th birthday he reminded everyone that he helped to build the first Slinger Speedway.
When asked what his favorite racing memory, Melius said, "It was my first day racing for Gene Schwister. We had a brand new car, a coupe…that car is in the museum. Before the race Gene asked me, "What do you think?" I said, "I think she's gonna go like hell!" They had buried some tractor tires along the infield. I was running down on the inside in the south corner, close to the tires, when I got hooked in the back. I hit a tire, ran up it, and rolled over completely."
When Melius finally laid down his career in 1967 it was because "I was getting up there in age and worried about breaking bones. When you are over 40, bones don't heal. You need iron around them to help."
Video Credit: YouTube, John Surges