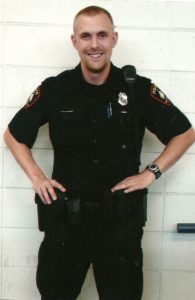 Brooke Mathes will be reading the tribute speech below on Saturday in Washington D.C.
On Saturday, May 14 at 2 p.m. at the National Law Enforcement Memorial in D.C., the National Law Enforcement Explorers will be conducting a wreath laying ceremony in memory of Fond du Lac Officer Craig Allen Birkholz and all former Law Enforcement Explorers who made the ultimate sacrifice.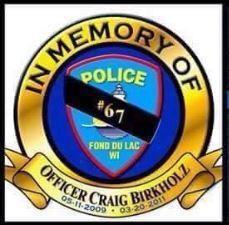 Law Enforcement Explorers from the Kenosha Post 509 and Fond du Lac PD Explore
rs will be attending.
Select Explorers will form an honor line on either side of and across from the panel containing Craig's name just before the ceremony.
Following opening remarks and introduction of honored guests by NYR Garcia and Commissioner Kerlikowske, an Explorer will deliver an invocation after which an honor guard composed of Kenosha and Fond du Lac Explorers carrying a special wreath, will be escorted by the bagpiper to the NLEOM seal in the center of the memorial courtyard.
A second honor line of Explorers will be in formation behind the honor guard. The honor guard will pause at the memorial seal at which time a tribute to Craig will be read by an Explorer.
Upon completion of the tribute, the honor guard and second honor line will be escorted by the bagpiper to the panel with Craig's name at which time the wreath will be placed in the landscaping above the panel and all Explorers will come to attention and salute while the bagpiper plays Amazing Grace.

Honored guests will be U.S. Customs and Border Protection Commissioner Gil Kerlikowske, IACP President Terry Cunningham, NLEOM Chair/CEO Craig Floyd and National Youth Representative for Law Enforcement Exploring Cynthia Garcia.
Craig joined Kenosha Police Explorers after learning about the program from a friend his sophomore year at Tremper High School.
It was through the Kenosha Police Exploring program that he became inspired to a career in law enforcement.
Fond du Lac Police Officer Craig A. Birkholz, 28, died on Sunday, March 20, 2011 in the line of duty.
Hat tip Ron Naab