April 1, 2022 – West Bend, WI – The third time may be the charm for developer Jim Emmer and friends as they prepare to run through details on a concept plan Wednesday, April 6, 2022, before the West Bend Plan Commission for
a 96 multi-family residential unit development and a 115-unit

senior housing, assisted living and memory care faci

lity development at the former Yahr's

Ready-mix site on the south side of Sand Drive.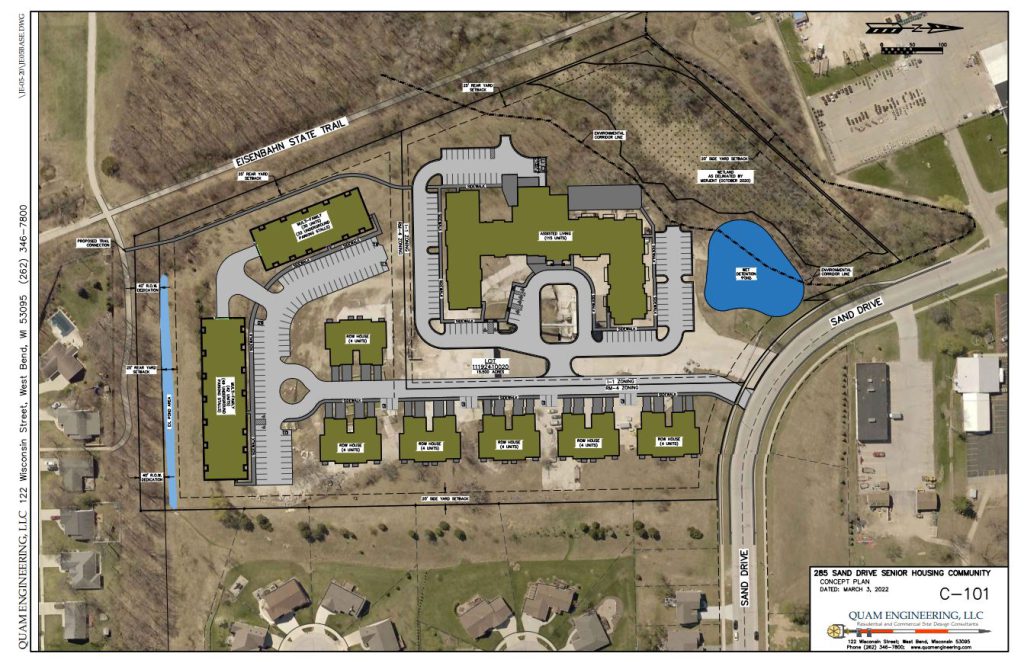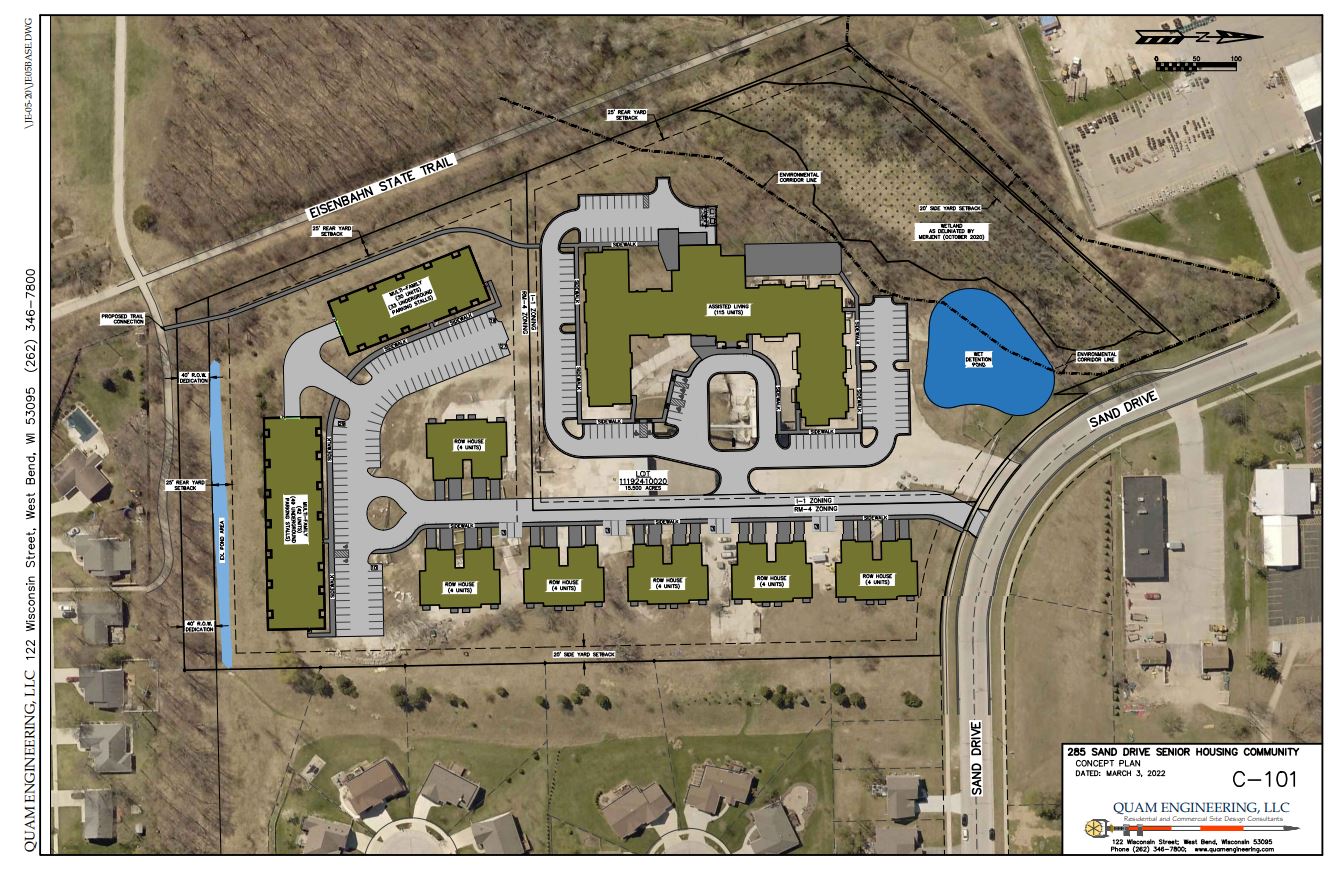 Plans were initially brought forward in July 2020 as Emmer and Brendan Sullivan proposed a multi-family and senior housing development on approximately 15.1 acres parcel of land at 285 Sand Drive.
Designs during the first run at the project included a 108 dwelling unit multi-family with market rate apartments including two, 30-unit buildings with in-building parking and six, eight-unit buildings with in-building parking on the eastern and south portion of the site.
Click HERE to SUBSCRIBE to FREE local news at
There would also be a senior living development on the northwestern part of the site with one large building with 66 assisted living units and 29 memory care units.  Four, four-unit buildings for senior independent living units would also be constructed and there would be a club house and indoor pool.
That proposal got shot down because of spacing concerns and because a landscaping berm along the eastern edge of the property was actually part of the neighboring Tuckaway Subdivision and not the Emmer parcel.
There was a public hearing December 1, 2020, the Plan Commission asked that the building layout be flipped so the tops of the buildings on the east side of the project were not intrusive to neighbors.
There are multiple development proposals on Wednesday's agenda: Building addition for five Below on south end of former Shopko (where garden center used to be), plans to expand Menards, and a large project on Sand Drive with a 96-unit multifamily,

115-unit

senior housing, assisted living and memory care faci

lity. 
In early December 2021 the West Bend Senior Partners proposal was reviewed again by Plan Commission and there were still concerns about the layout of the buildings, spacing, roof visibility by neighbors and the berm.
Emmer will introduce a new concept plan at the 6 p.m. meeting Wednesday. The meeting is open to the public at West Bend City Hall.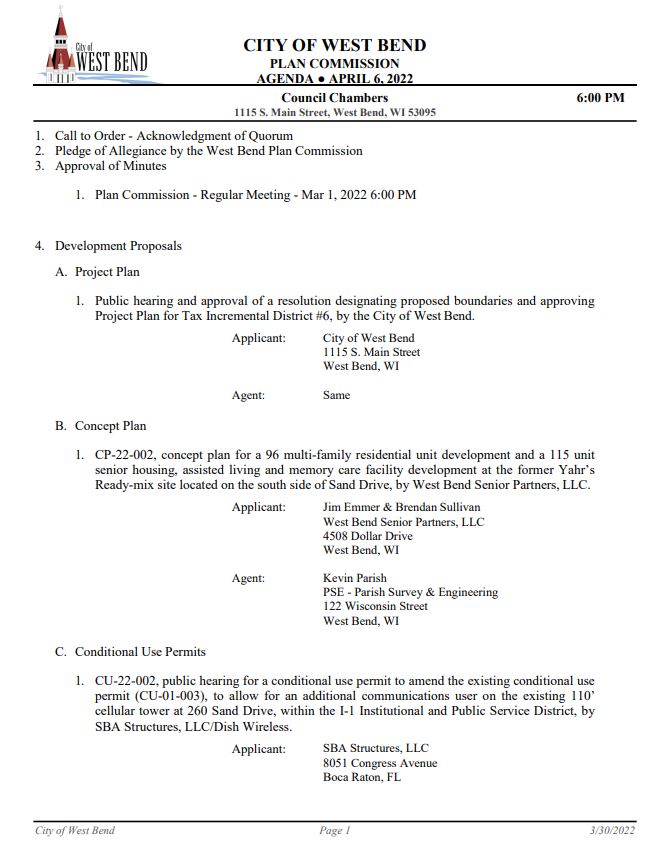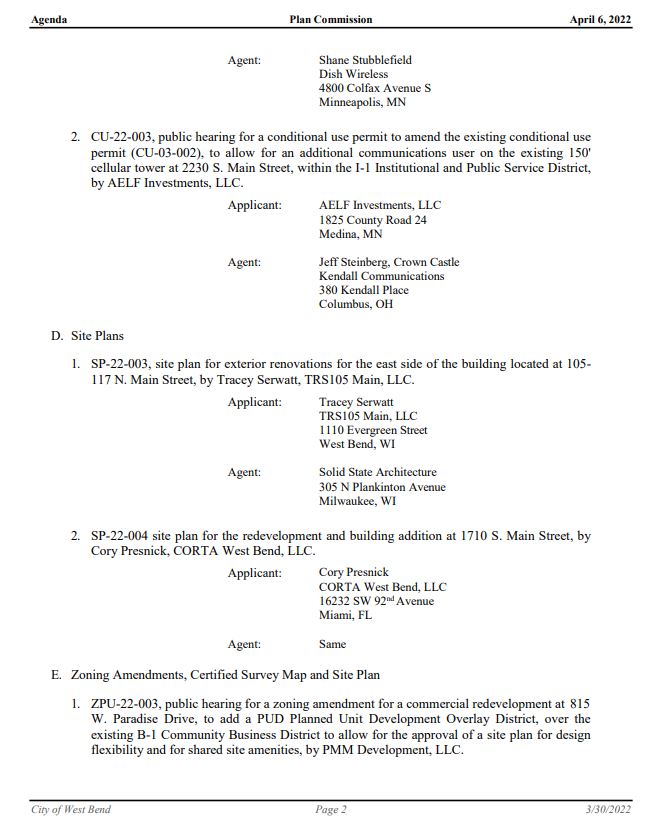 Click

HERE

to look at plans for a new Panera Bread and Chipotle at the former Shell South location on Parkway Drive and Paradise Drive.
The request by Menards, 575 W. Paradise Drive, to expand is interesting as the site is pretty landlocked. Store officials say, what was once a large store is pretty small by today's standards. The expansion of Menards would be to the west of the current building as there's a request to combine two lots and then shift the park and ride over to the northwest of 2180 S. Main Street, which is the address for Meijer. Details are below.