Washington County, WI – If you're happy and you know it, you've probably just had a mouthwatering Dairy Queen 2-cheeseburger special.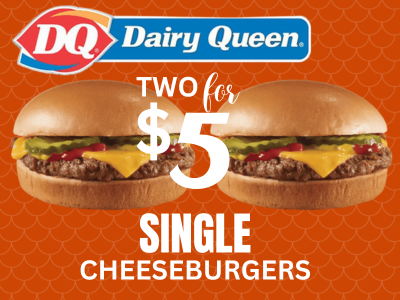 Stop in at your local Dairy Queen location today and get two cheeseburgers for just $5.
Our cheeseburgers are 100% beef patty topped with melted cheese, pickles, ketchup, and mustard served on a warm toasted bun.
Kewaskum, 118 County H
West Bend, 1043 S. Main Street
Jackson, N168W21991 Main Street
If you're looking for a little more, try DQ's $7 meal deal! CLICK HERE to check it out.