West Bend, WI – The 2nd Annual Judy Phillips Influencer in Aging Award celebration was held this week at The Lodge at Cedar Community.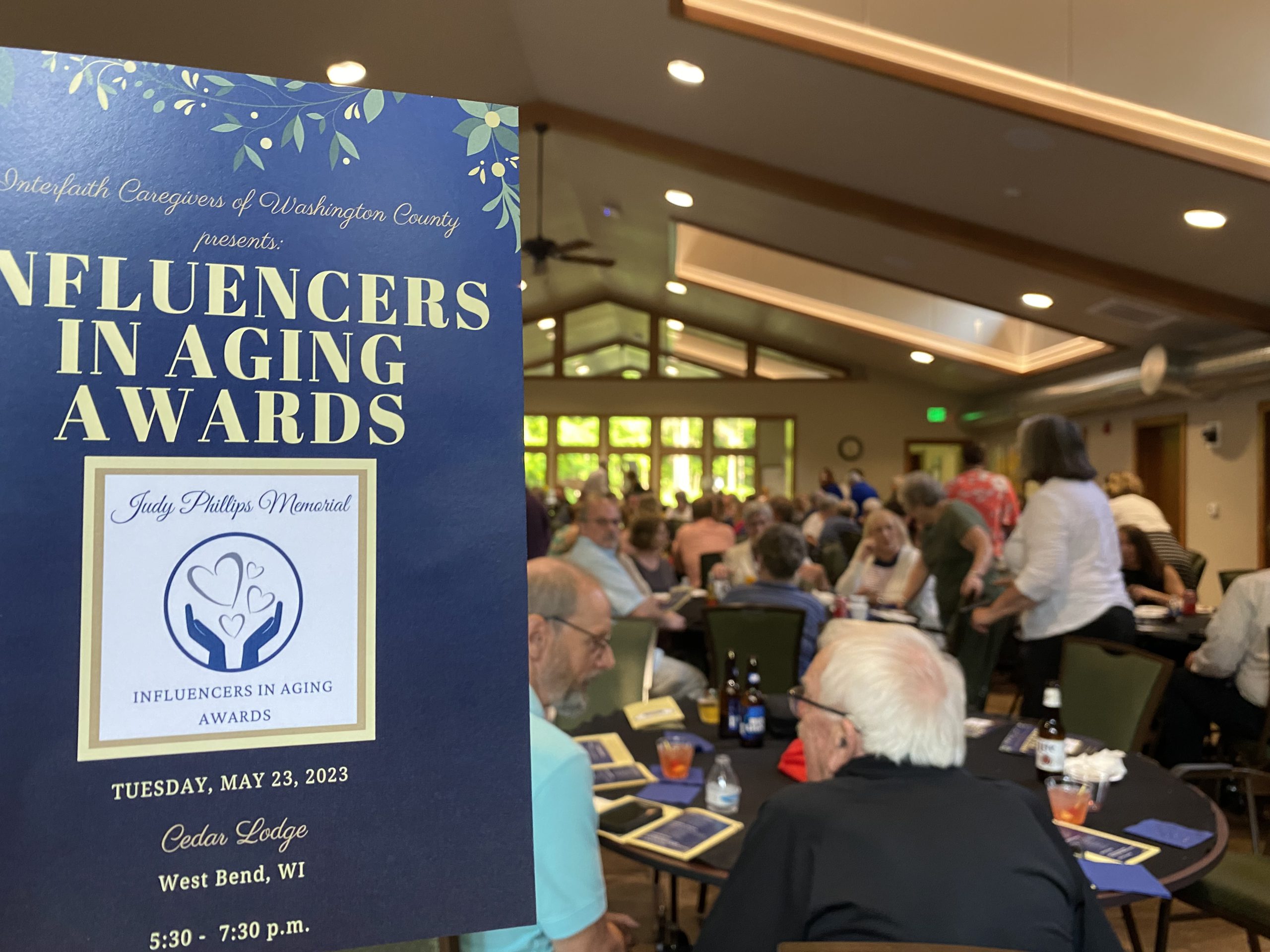 The award, established by Interfaith Caregivers of Washington Co., honors Judy Phillips and her legacy of passionate work for senior citizens. The evening recognized those in the community whose work demonstrates creative, impactful and strong advocacy for the senior citizens in our community.
More than 20 people were nominated.  Winners are listed below: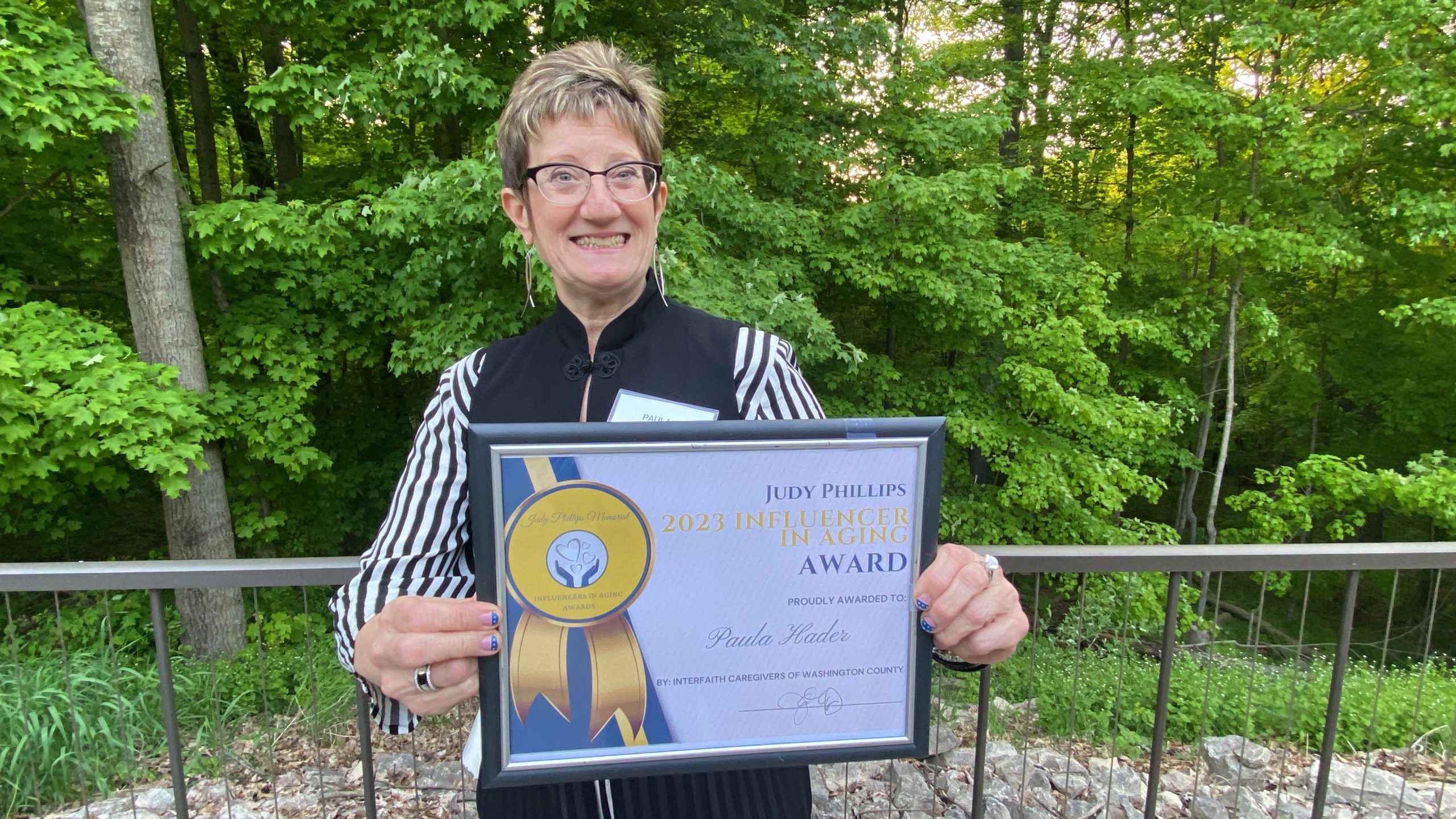 Paula Hader brings her passionate, servant heart to work every time she walks through the door at Senior Citizens Activities, Inc. or "SCAI" in West Bend. With Paula's incredible leadership over the past 6 years, this gem of a resource for those 50 and older in West Bend has grown exponentially where she has been the director for 5 years. During her tenure the center has seen exponential growth, even with all of the Covid set-backs to overcome. Paula has brought vast new offerings of innovative health & wellness programs, travel opportunities, arts and crafts. The center is bustling and bursting as new members discover Paula's newest offerings along with those established favorites like Pickleball and of course, Sheepshead!! With her genuine warm & welcoming style, Paula ensures that each participant feels like a valued member and essential part of the Senior Activities community.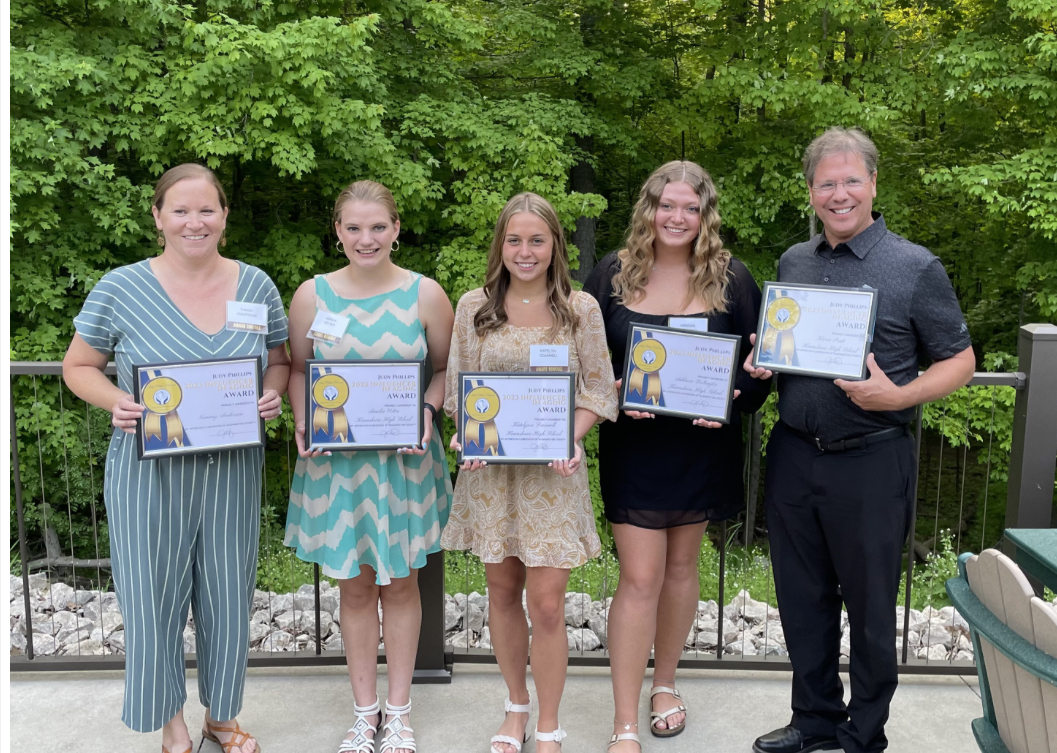 Kevin Pratt & Kewaskum High School Students – Addy DeRuyter, Katelyn Scannell, and Mia Vetter, along with Tammy Anderson – current Director of the ADRC –
This past school year, an amazing thing happened for older adults in Washington County! Kevin Pratt, a teacher at Kewaskum High School, along with the help of students – Addy DeRuyter, Katelyn Scannell, and Mia Vetter – started a technology class that would help older adults learn to better use their devices – cell phones and tablets.  This class was a collaboration with Tammy Anderson and the ADRC and was an effort to combat social isolation. If these students could help seniors develop the skills necessary, the senior would be able to use technology to keep in touch with friends and family. Mia and Katelyn actually created the curriculum and would run this 6-week class – how cool is that?! They found they needed another teacher and soon added Addy. The class will be starting its 3rd session soon – and even caught the attention of Fox 6 news!  The intergenerational relationships being built have made a very meaningful impact on the lives of both students and seniors. Kevin and his students truly hope they have paved the way for other schools to impact lives outside the school building in such an impactful way.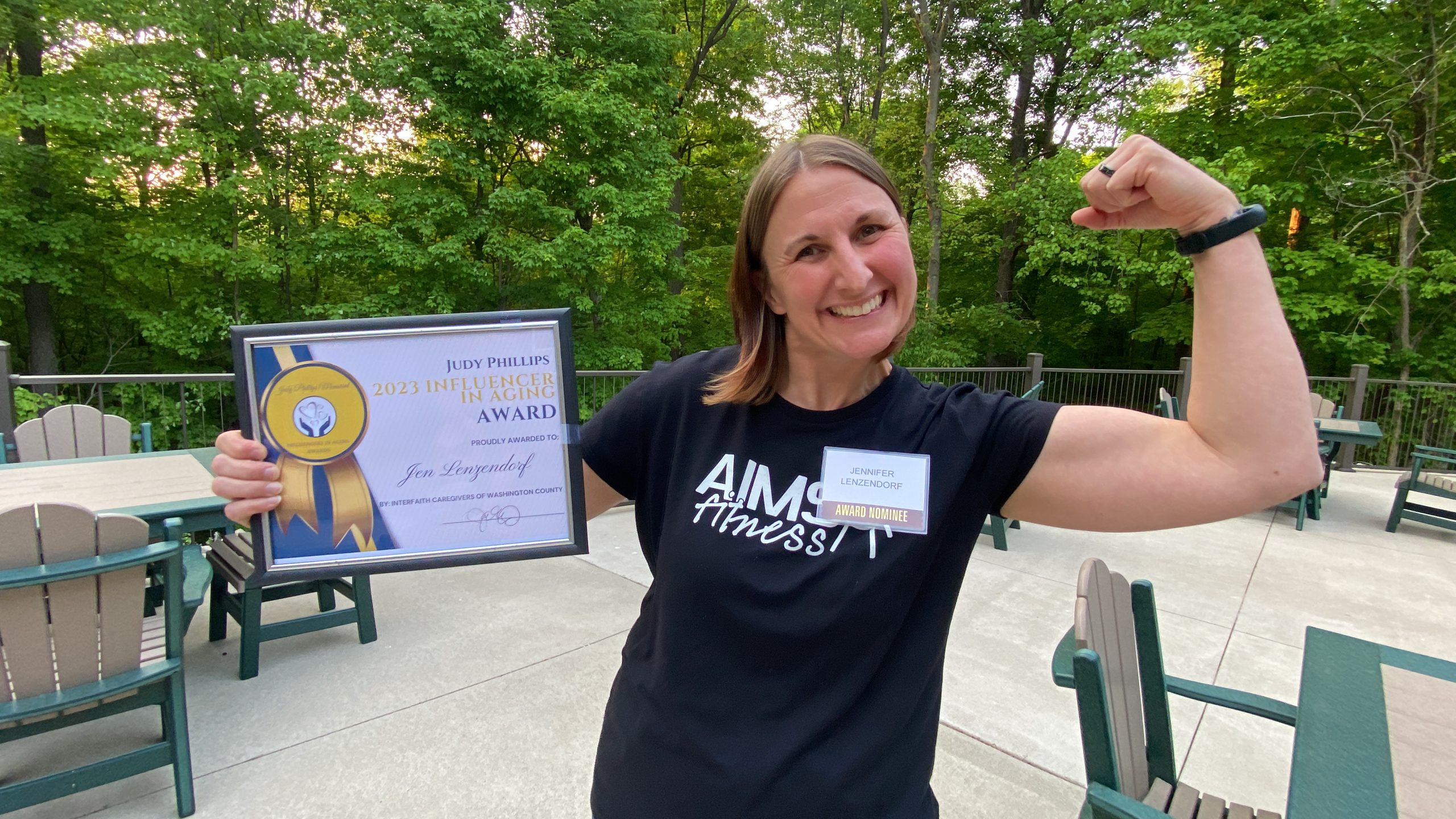 Passionate about health & happiness, Jen Lenzendorf lives to share that passion with others, as the owner and founder of AIMS Fitness in Barton, WI.  Jen's journey into health goes far beyond exercise for weight loss, as she is also a recent breast cancer survivor. Working to live each day to the fullest, Jen understands the importance of living one's best life through fitness. She is a perpetual learner of how to keep people moving safely and how to have fun doing it well. She will tell you she does not know it all and then will find the answer for you!  Although fitness was not her first love, she has found it to be her purpose and passion in life as she loves to get people moving.  Her strength is positivity, which has been very helpful in overcoming challenging times. She uses her gratitude for life and energy to make each class unique and fun. Jen's programs are specifically for our aging, older adults. She offers a class for those with Parkinson's Disease called "Rock Steady Boxing," and one called "Warriors Against Sarcopenia" which is group focused on combating muscle loss as part of the aging process. Her students will tell you over and over her impact is hard to measure.  When Jen is not in the studio, she is spending time with her triplets, as well as her husband and a few furry friends.
Susan Schickert began her career in the field of geriatrics in 1976, becoming a licensed practical nurse in 1981.   Susan's entire career has been caring for frail elders who deserve dignity and compassion from those who provide it.  Anyone do any quick math? That is 47 years!! For 47 years, Sue has been that person at Cedar Community. Sue's passion has never wavered, her calming presence always a blessing, and her outstanding leadership a beacon for all in the nursing and caregivers' careers to follow.  Every day, Sue works to make the life of the seniors in her care just a little bit better, whether it's in little ways or big, it all makes a difference. From a simple hug, compliment, or treat – she ensures each senior feels like a member of her family. Sue worked alongside Judy Phillips for many years – they shared many values and their goals the same – provide outstanding care to those you serve. For Sue, that has been over 95,000 outstanding care hours and counting!
The big winner of the night Rachel Kaehny-Frank who secured the 2023 "Spirit of Judy Phillips" Influencer in Aging Award.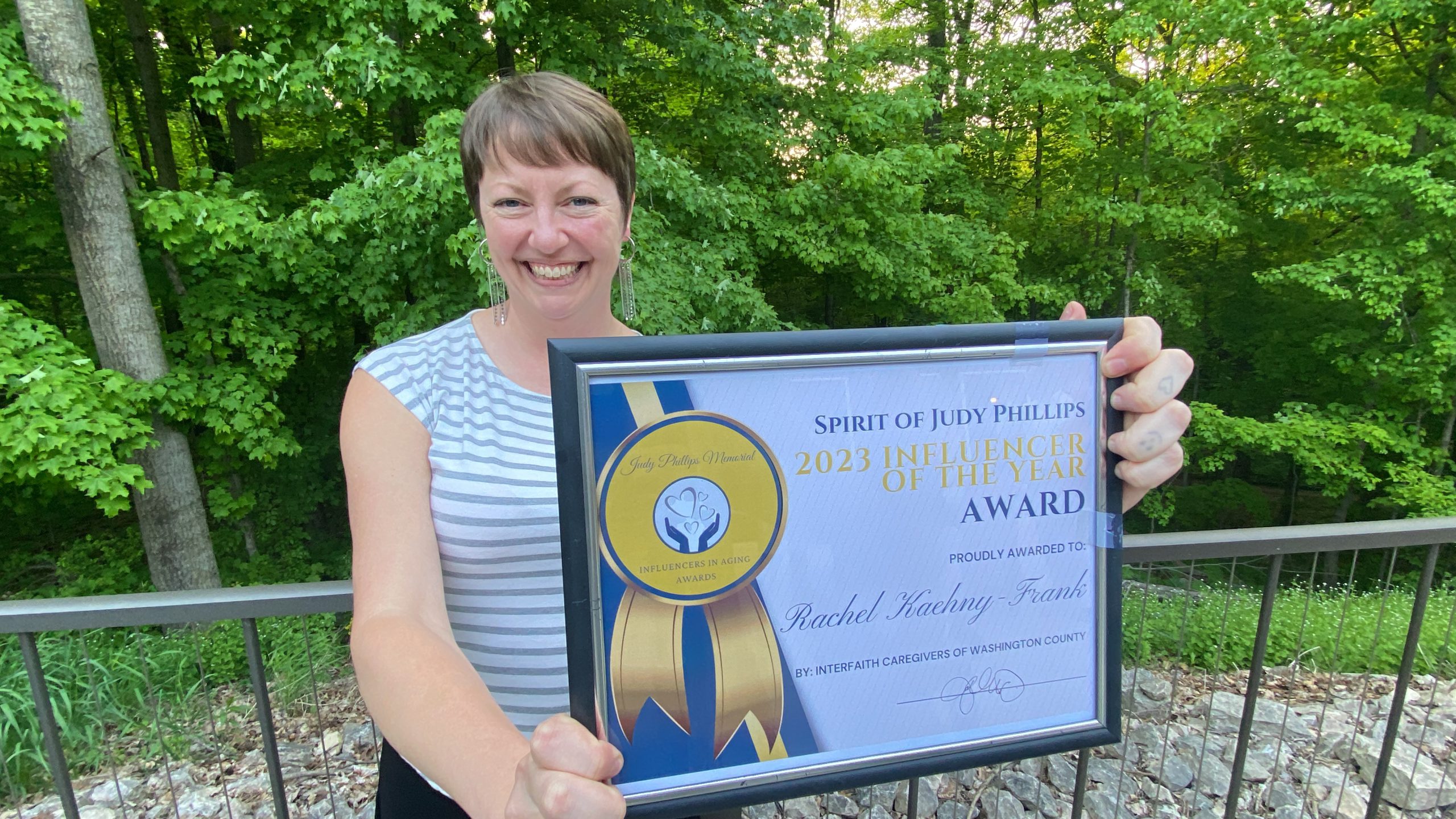 Rachel Kaehny-Frank has shown a consistent life-long dedication to bettering the lives of seniors. Her work with seniors began at the Washington County Aging and Disability Resource Center where in 2017, she received the Washington County Employee Appreciation Award for Integrity. It was this and her incredible passion and commitment that led Judy Phillips to simply "adore" working with Rachel – Judy was a Rachel fan. After 5 years at Washington County, Rachel continued her work with seniors, bringing her outstanding leadership skills to Milwaukee County's ADRC as their Director.  Then, for a time, Judy got her wish – working side-by-side with Rachel at Gericare. Rachel continues to make an impact in the world of elder care, now at the state level with Wisconsin's Department of Human Services. Right up there with her love of seniors, is her love of animals, as she also shares her time and talent fostering dogs as they await their forever home 😊