Listening session in Jackson with Gov. Walker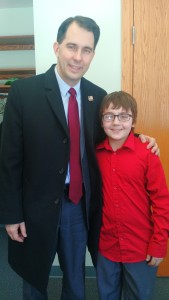 Gov. Scott Walker hosted a listening session at Jackson Village Hall on Thursday afternoon. About 40 community leaders, business owners and students were in attendance.

West Bend School Superintendent Ted Neitzke brought three of his best and brightest students  including Alaina Michels, a 17-year-old junior at West Bend East High School, said there were a lot of ideas presented at the session and it will be up to the people that were there to get the job done.   "It's important we spread this information throughout the community," said Michels. "We can take action within school and through adults that are active in the community."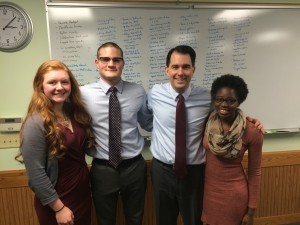 Andrew Steiner, 18, from West Bend East High School said there were a lot of ideas exchanged at the session but he was optimistic advancement in the state is possible. "A big part of what we talked about was communication and collaboration and if we continue things like this the sky is the limit," he said.
The governor's visit was part of the Working for Wisconsin: 2020 Vision Project. The session was a unique opportunity for neighbors to voice their thoughts on economic development priorities directly to the Governor.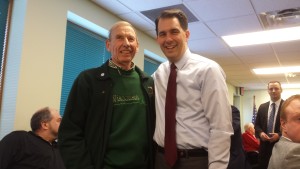 Some of the business leaders in attendance included real estate agent Scott Stortz, Doug Gonring from the West Bend Elevator, and Katherine Gehl, who sits on the Board of Directors of Gehl Foods.
"This is a great process to be going through for the governor and his staff and thinking about the type of leadership you want to provide," Gehl said.
During the 1.5 hour session the governor jotted down notes. He first asked, what made Wisconsin great. The group started slow, throwing out answers like 'Green Bay Packers and a good parks system and a positive work ethic.
Second, the governor asked what we needed to do in the next 20 years to make Wisconsin better. Suggestions written on the white board covered a wealth of territory from improving education to affordable housing to being a leader in health care and sustainable agriculture.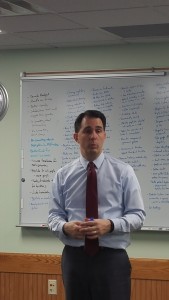 "The whole list that was created isn't doable but there are absolutely things on the list that are doable if we proactively choose them as a state and if we stay focused on those choices over a period of time," said Gehl.
"The best states will be able to deliver on long-term outcomes. In the short term we need competitiveness with the businesses doing well and growing but we also need employees that are doing well," she said.
The listening session was intended to ensure the priorities of Washington County businesses were being considered in the shaping of the governor's strategies.
The meeting was coordinated by the Economic Development Washington County.
Photos courtesy John Lamm, Joshua Schoemann, Ted Neitzke and Jessica Loomans.
Reporter Judy Steffes was the only local media in attendance.