5K ENERGY Glo RUN in Jackson is Saturday, Oct. 7. Register today!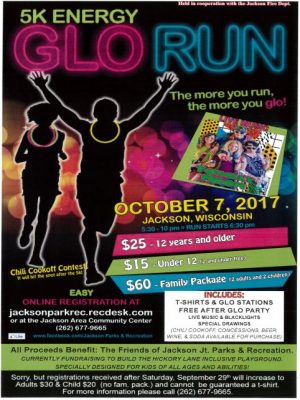 Oct. 5, 2017 – Jackson, WI – The annual Energy Glo Run is Saturday, Oct. 7.  The Glo Run will include, t-shirts, glo stations, free after-glo party with live music, blacklights and special drawings, and a Chili Cookoff!
All proceeds benefit: The Friends of Jackson Jt. Parks & Recreation, currently fundraising to build the Hickory Lane Inclusive Playground.
Click HERE and register today.