5th annual Banner ArtWalk is May 13 at the Museum of Wisconsin Art.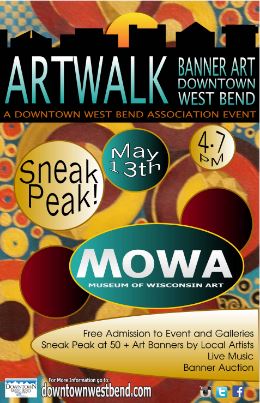 April 26, 2017 – West Bend, WI – The 5th annual Banner ArtWalk is May 13 at the Museum of Wisconsin Art.
Fifty hand-painted banners will hang from the second-floor railing in the atrium entrance of museum.
Artist and banner organizer Chris Porter said the idea started as a way to help beautify the downtown.
"We didn't have the money for flower baskets and it was a good way to take old Christmas banners and repaint them," she said.
"The first year we learned a lot, the second year we learned more, and from year to year it's getting better; we have a lot of talent here and I'd love to see it continue forever and ever."
Those taking in the event will also be able to explore the Museum of Wisconsin Art free of charge.
The banners are painted by local artists and they've received rave reviews in the past.
"They're beautiful and unique and everyone has its own little story," said Jan Nesladek of West Bend.
"I was surprised at the quality of some of the work because it's very good and widely varied," said Bob Bergstrom of West Bend.
"It beautifies our downtown and it gets people to go downtown," said Grace Wright. "I give Chris Porter a lot of credit this had to be a huge project."
"I'm really impressed with the artwork and especially the fact there are a lot of students involved," said Carol Casadonte, formerly of Tomahawk.
Banners from previous years will be auctioned off. Money raised will go to support the banner ArtWalk project.
About Author
Judy Steffes
First-run stories from a trusted reporter who has lived in West Bend/ Washington County for over 33 years. Business/faith/education/community/history/arts.