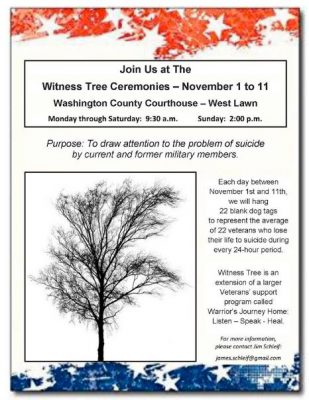 Nov. 1, 2018 – Washington Co., WI – Dear Colleagues and Warriors,
Warriors' Journey Home: Listen – Speak – Heal is planning to offer a "Witness Tree" between Nov. 1 and Nov. 11, Veterans Day.
The purpose of the Witness Tree is to call attention to and raise awareness for the challenge many vets have following military and combat service, all too often ending in a loss of precious life by suicide.
Part of that awareness will be to ensure support organization contact information and suicide hot line information is readily available.
Each day between November 1 and November 11, we will hang 22 blank dog tags from the Witness Tree, offer a small piece of liturgy and prayer.
I have 1,000 blank dog tags so we could support four Witness Trees throughout Washington County or surrounding area.
I would like other veterans support groups and organizations to have the opportunity to weigh in on the idea and participate as desired.
This effort has been done by Warriors' Journey Home chapters in Pennsylvania and I am co-opting the idea with their blessing here in WI.
If you would like to participate, have comments, or host a Witness Tree, please let me know.
Thanks and blessings.
James Schleif from St. John's United Church of Christ in Hartford
Washington County will be hosting Witness Tree Ceremonies at the front entrance to the Herbert J. Tennies Government Center from November 1 –November 11 per Kurt Rusch, Washington County Veterans Service Officer.
Each weekday and Saturday, at 9:30 a.m., Reverend Jim Schleif (Navy Vet) will come to the Herbert J. Tennies Government Center, provide a short ceremony, and then 22 blank dog tags will be placed on the tree to represent the 22 Veteran Suicides that occur each day.
The ceremony on Sunday, Nov. 4 and 11, will occur at 2 p.m.
Please consider attending this meaningful public awareness effort to draw attention to the problem of suicide by current and former military members.