May 14, 2022 – West Bend, WI – On Monday, May 16, 2022, the West Bend Common Council will consider a proposal to fill in the Regner Park Pond and make it a 3-foot wading pond.
The City Attorney said that modification will allow the pond to operate as a "swim-at-your-own-risk" facility.  Details are below.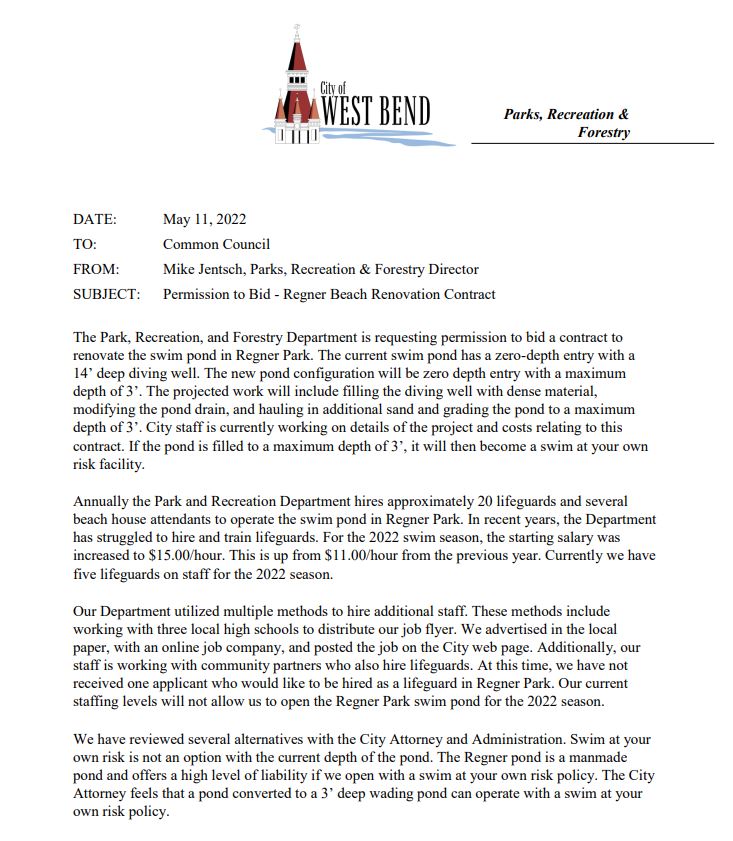 Monday's common council meeting begins at 6:30 p.m. in the council chambers at City Hall, 1115 S. Main Street. The meeting is open to the public.
Looking for summer swimming in the West Bend area? Check out Lake Lenwood. Off Hwy 144 on Wallace Lake Road. Clean and close by summer fun! #lakelenwood #swimming #westbendwi
Lake Lenwood is a daily recreational spot. If you don't want to camp, you can come spend the day on the beach. Fun. Clean. Family friendly.  Locally owned.
Affordable canoe, tubes, hydro-bike, kayak and paddle boat rentals. Life jackets included.
Click HERE to SUBSCRIBE to FREE local news at
Admission includes parking, swimming, wading, sandy beach, slide, pier with diving board, raft, water basketball, grassy and shaded picnic area with tables and grills, and complete playground with play system.
Click HERE for admission prices and details on camping.